The future of coffee is looking increasingly dairy-free. This month, vegan oat milk brand Minor Figures is taking coffee lovers on a journey into the world of imaginative coffee concoctions that may soon become a reality. 
With an eye on the environment and a mission to highlight the importance of coffee and climate change, Minor Figures has launched the "Off World" Tour, a futuristic exploration of what coffee consumption might look like a century from now.
Making coffee more sustainable
One of the biggest concerns when it comes to the climate crisis is the damaging impact of harmful environmental practices on the coffee farming industry. If something doesn't change, it is possible that the number of locations suitable for growing coffee will drop by up to 50 percent by 2050. 
Minor Figures
"If we want to continue to enjoy sipping on a great cup of coffee every morning in the future, we need to make sure we're contributing to a world that can continue to support the production of coffee beans," Melissa Hauser, Minor Figures General Manager, North America, tells VegNews. "One simple change that can make a significant impact directly is moving from coffee with dairy to plant-based milk." 
"Not only does alt milk have a lower environmental impact, more sustainable options like oat milk can also be the tastiest," Hauser adds. 
In fact, according to Hauser, if you were to drink one coffee with oat milk instead of dairy, you would save 500 grams of CO2 per cup. "For the same carbon footprint as a single dairy latte, you can drink an oat milk latte plus a pint of beer," Hauser says. "Over one year of drinking oat milk lattes in place of dairy every day, you'd save 180 kilograms of CO2e."
Coffee of the future
To inspire coffee shops and consumers to consider dairy-free coffee drinks, Minor Figures has embarked on a mission to anticipate how coffee will be brewed and savored 100 years from today.
Its "Off World" Tour is a month-long global activation that brings together coffee shops from across the United States, Australia, and Japan. These participating cafés have been challenged to let their imaginations run wild and create visionary coffee drinks that can take any form in terms of caffeine content, size, temperature, state, and color.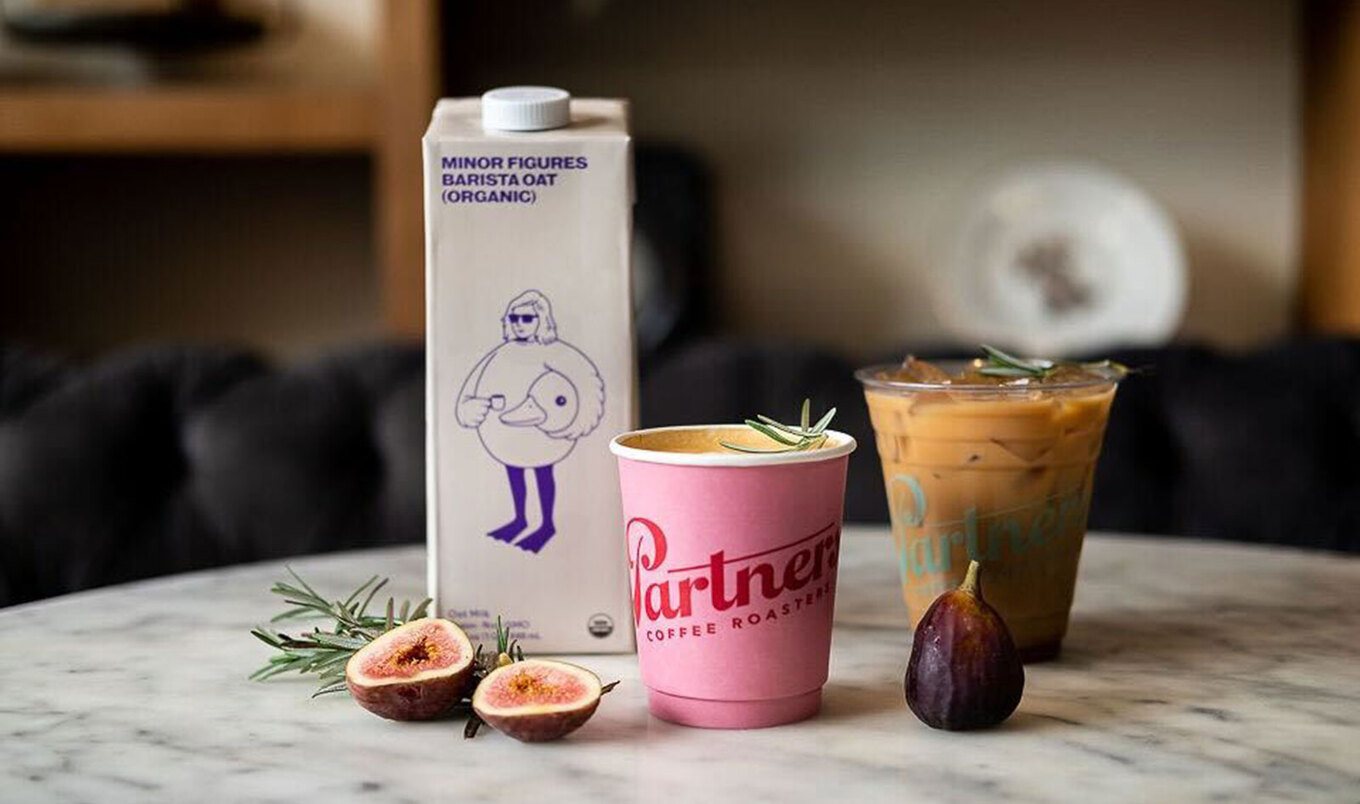 Partners Coffee Roasters
In New York City, Partners Coffee Roasters has set the stage for coffee sustainability with its "Go Figure Latte." This innovative creation features single-origin espresso, fig, one of the world's most sustainable fruits; and rosemary, a herb that grows year-round with minimal water consumption, mirroring the elements that draw people to oat milk. 
Meanwhile, in Austin, TX, Try Hard Coffee is pushing the boundaries of coffee experiences with its creation, "Stardust." Described as a liberated glam rock libation, this drink incorporates adaptogens, edible glitter, and CBD oil, offering a sensory explosion that must be enjoyed within Try Hard's visually stimulating light installation, the Green Room—an immersive experience featuring projection art from some of Austin's most creative visual artists and live performances by DJs and bands.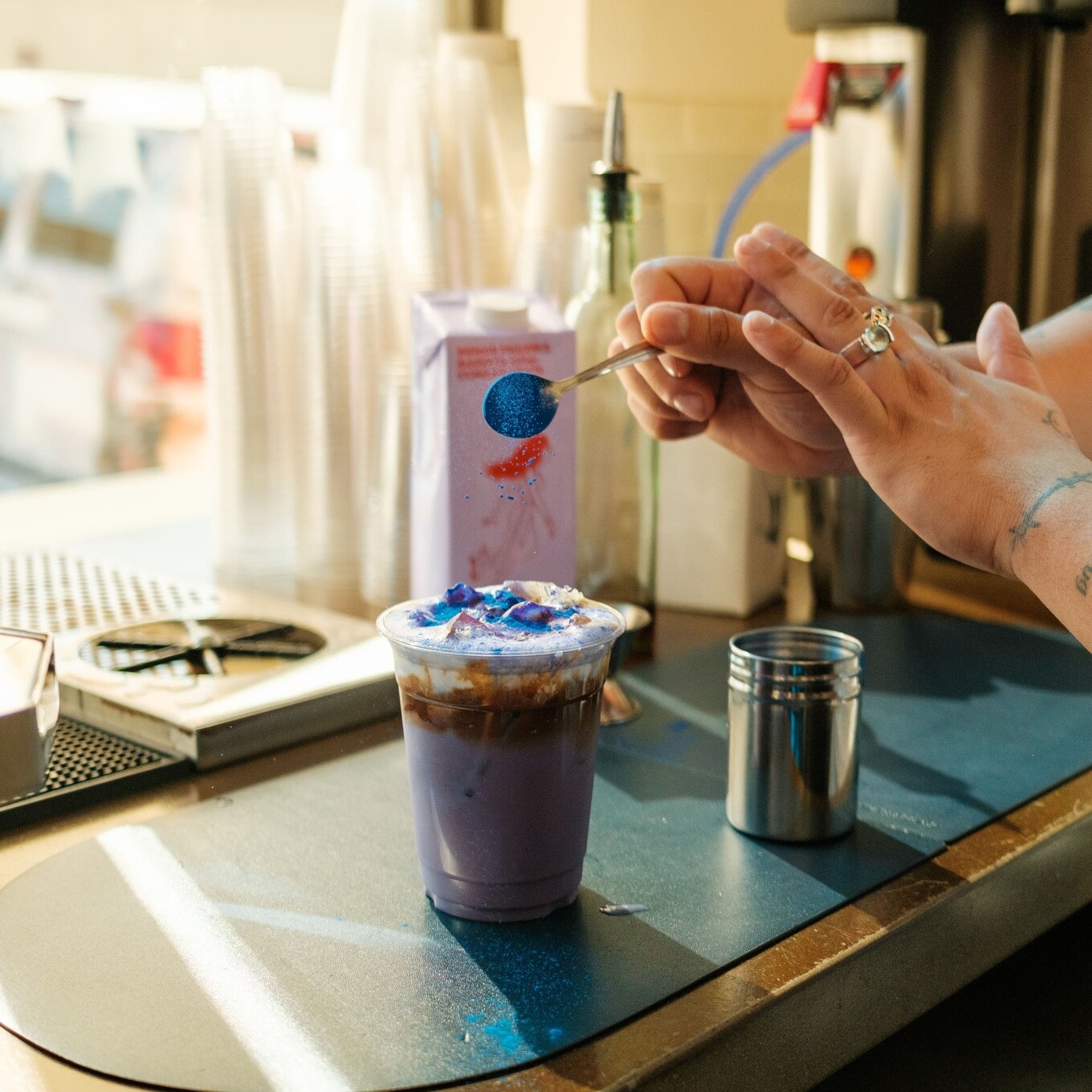 Heavy Water Coffee
In Los Angeles, Heavy Water made "Blue Heaven" with Minor Figures chai concentrate, housemade vanilla, and blue spirulina shaken with Minor Figures Barista Oat Organic and topped with coconut cream, more blue spirulina, and half a shot of espresso. For this team, the future of coffee is experiential, and "Blue Heaven" is an indulgent beverage that offers different sensations as you work your way through the drink. 
Over in San Francisco, Grand created "Jupiter," made with a chai syrup built from a blend of herbs and spices and mixed into oat milk which is dyed blue-violet with pea flowers and then topped off with a shot of espresso, mimicking the swirling blue, red, and brown stripes of the largest planet in our solar system. 
Specialty coffee goes dairy-free
Rather than focusing on scarcity when it comes to the impact of climate change on coffee production, Minor Figures is engaging in conversation about creating a more sustainable future. "To us, the future has to be sustainably minded, the future has to be full of imagination and wonder, and, finally and absolutely, we must ensure that the future is delicious," Hauser says.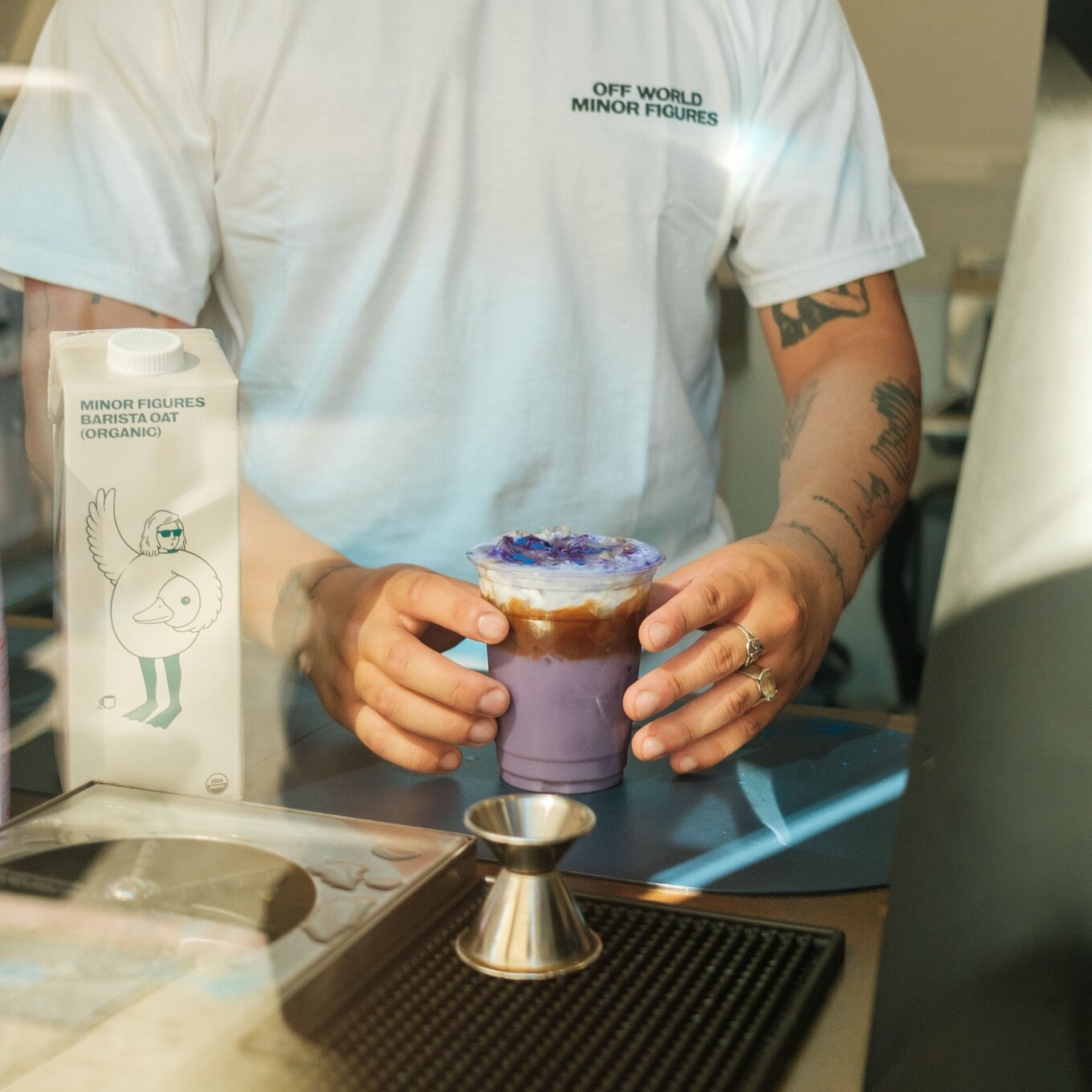 Heavy Water Coffee
Each participating café will feature its unique "Off World" drink on the menu throughout the month of October. "With the Off World campaign, we wanted to invite other baristas, specialty coffee roasters, and cafés to participate in the conversation, and reframe the thinking around a dystopian future to inspire hope, creativity, and innovation," Hauser says.
Minor Figures is known for its creative and out-of-the-box brand activations, and the "Off World" Tour is no exception. This tour serves as a cheeky and interactive way to involve more people in the conversation surrounding the future of coffee and its environmental impact.
For the latest vegan news, read: