If a food is universally enjoyed, there's bound to be some heated discussion surrounding it. Pizza, for example, is a highly contested item, as are bagels.
Most agree pizza and bagels are delicious, but when it comes to the thickness of their pizza crust or the toasting of their bagels, things get contentious. Along with the opinionated differences surrounding bagels (Do New Yorkers really make the best bagels? Does cinnamon sugar belong in a bagel shop?), there is controversy surrounding the blend of seeds and seasoning that has become the phenomenon of the everything bagel.
Grounded Bagel
In 2008, dissension broke out over the invention of this iconic bagel varietal. David Gussin—a then-teenage employee of a Queens bagel shop—claimed he accidentally invented "everything" around 1980 while sweeping up leftover seeds and keeping them for later use as a bagel coating.
Buffalo, NY, bagel shop owner Seth Godin ousted Gussin's story, claiming that he had been making everything bagels since 1977 (and plus, the leftover seeds from bagel-making are literally burnt, so there!).
Regardless of who owns the rights to this seasoning blend, it took off, and people are putting it in everything from cream cheese to ice cream. Has our love for everything gone too far, or is it the next nutritional yeast?
If you can't get enough of this crunchy, oniony concoction, here are seven vegan foods bursting with everything essence. 
What is everything bagel seasoning?
Considering all the possible mix-ins and coatings of bagels these days, the everything seasoning blend is a far cry from including everything.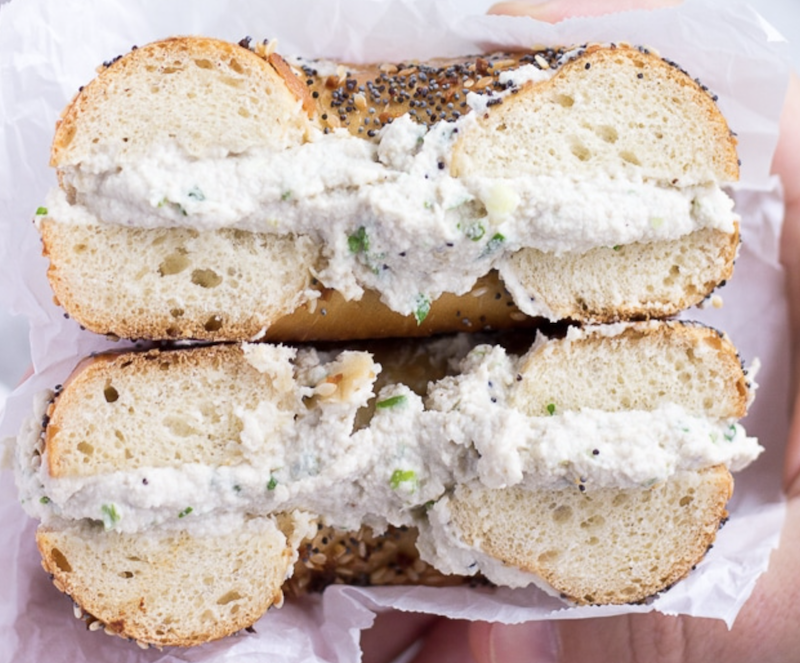 Nora Cooks
The mix is very garlic- and onion-forward with a subtle hint of nutty sesame flavor and a bit of crunch thanks to the inclusion of poppy seeds. The classic blend can easily be made at home and consists of equal parts poppy seeds, dried minced garlic, and dried minced onion flakes; three parts sesame seeds (preferably a mix of black and white seeds), and one part flaky sea salt. Here's a recipe by Love and Lemons that's very straightforward. 
Store-bought or homemade everything seasoning on hand, you can enhance any type of savory food (yes, Jeni's put it in ice cream, but sprinkle at your own risk). Try it over baked potatoes, roasted or steamed vegetables, buttered pasta, popcorn, avocado toast, salad dressing, potato salad, corn on the cob, hummus, guacamole, veggie burgers—if you're an everything-lover, you'll find a way. 
7 vegan foods with everything seasoning
If you're an everything bagel aficionado, try these seven plant-based foods with the "everything" touch.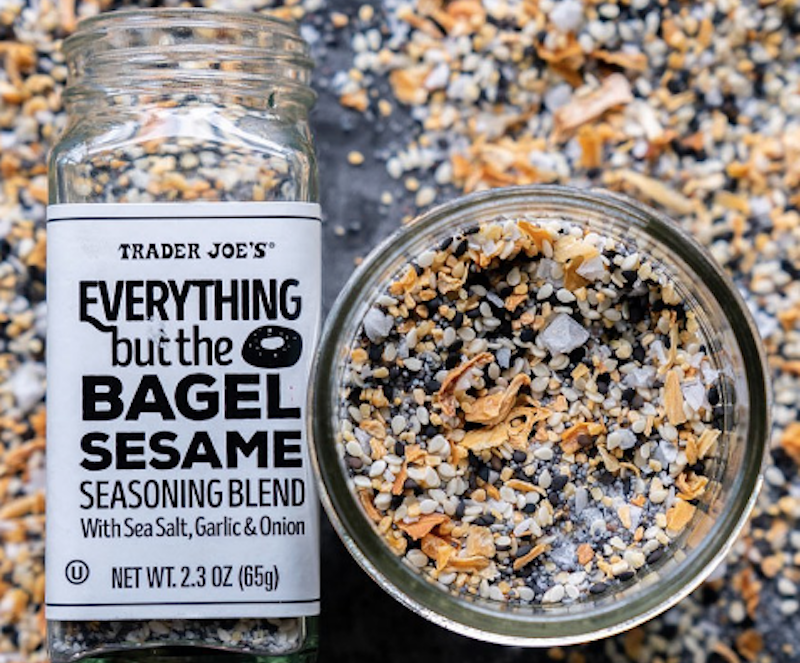 Trader Joe's
1 Everything seasoning
Trader Joe's popularized the novel concept of bottling everything bagel seasoning, but this grocer isn't the only brand to do it. Today, most spice companies have their own version of TJ's Everything But the Bagel seasoning, and it can be used on, well, just about everything.
From tofu to toast to roasted veggies, this brilliant spice blend gives you the gift of everything flavor in just a few quick shakes.
FIND IT HERE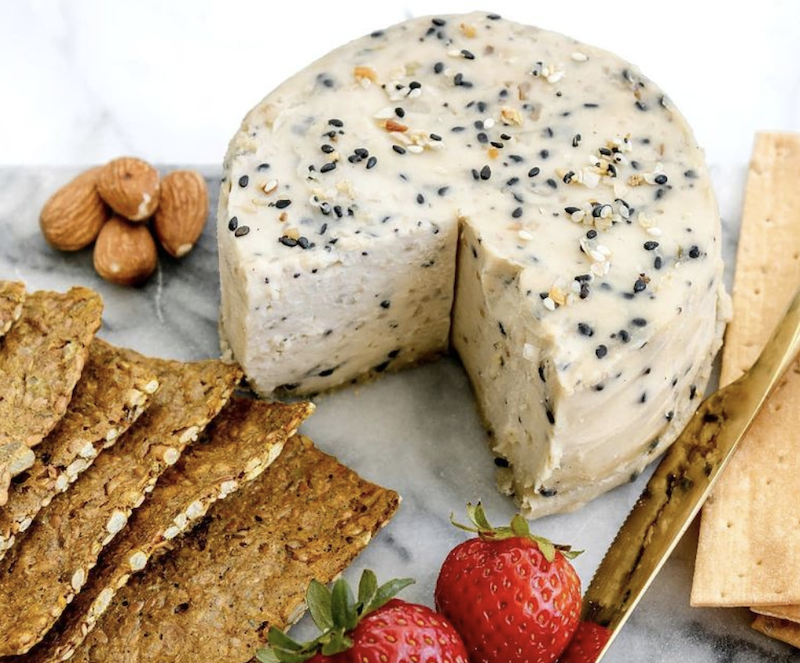 SriMu
2 SriMu Everything cheese
The SriMu brand does not sell vegan cheese. It sells luxury … in the form of vegan cheese. Each round is meticulously crafted and aged then wrapped in wax paper and fitted into a cushioned black and gold keepsake box.
SriMu is a gifting cheese, or a treat-yo-self cheese, but if you fit into one of these two categories and you have an everything-lover in your life, this is the gift to get. 
FIND IT HERE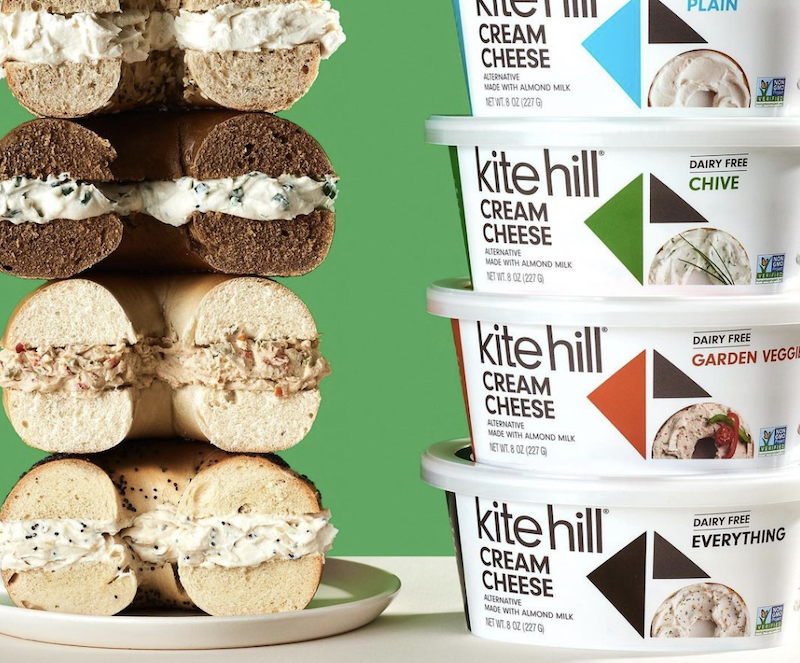 Kite Hill
3 Kite Hill Everything cream cheese
True everything fans don't stop at bagels—they want their cream cheese infused with poppy seeds, garlic, and onion, too. For some individuals, there is no such thing as too much everything.
Beyond seasoned bagels, this schmear is excellent on toast, tomato slices, and crackers. It takes tiny cucumber sandwiches to a whole new level. 
FIND IT HERE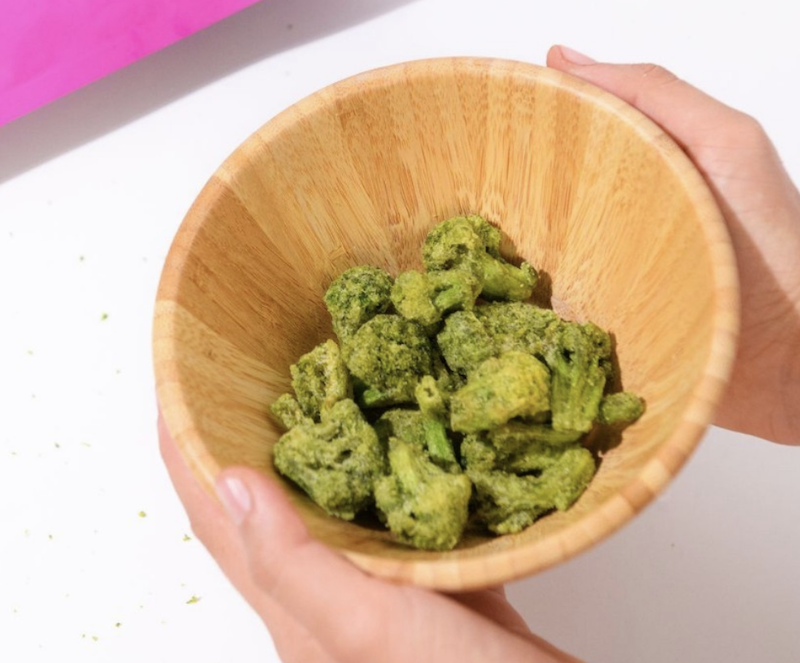 Rhythm
4 Rhythm Everything Bagel Broccoli Bites
Even the vegetable-averse will be addicted to these crunchy, garlic-and-onion broccoli bites. Each stalk is crisped to perfection and coated with a bit of sunflower oil (for adhesive purposes) and a generous dose of everything seasoning.
Sure, this snack may not be quite as healthy as plain steamed broccoli, but with four grams of protein and five grams of fiber, it's a step in the right direction.
FIND IT HERE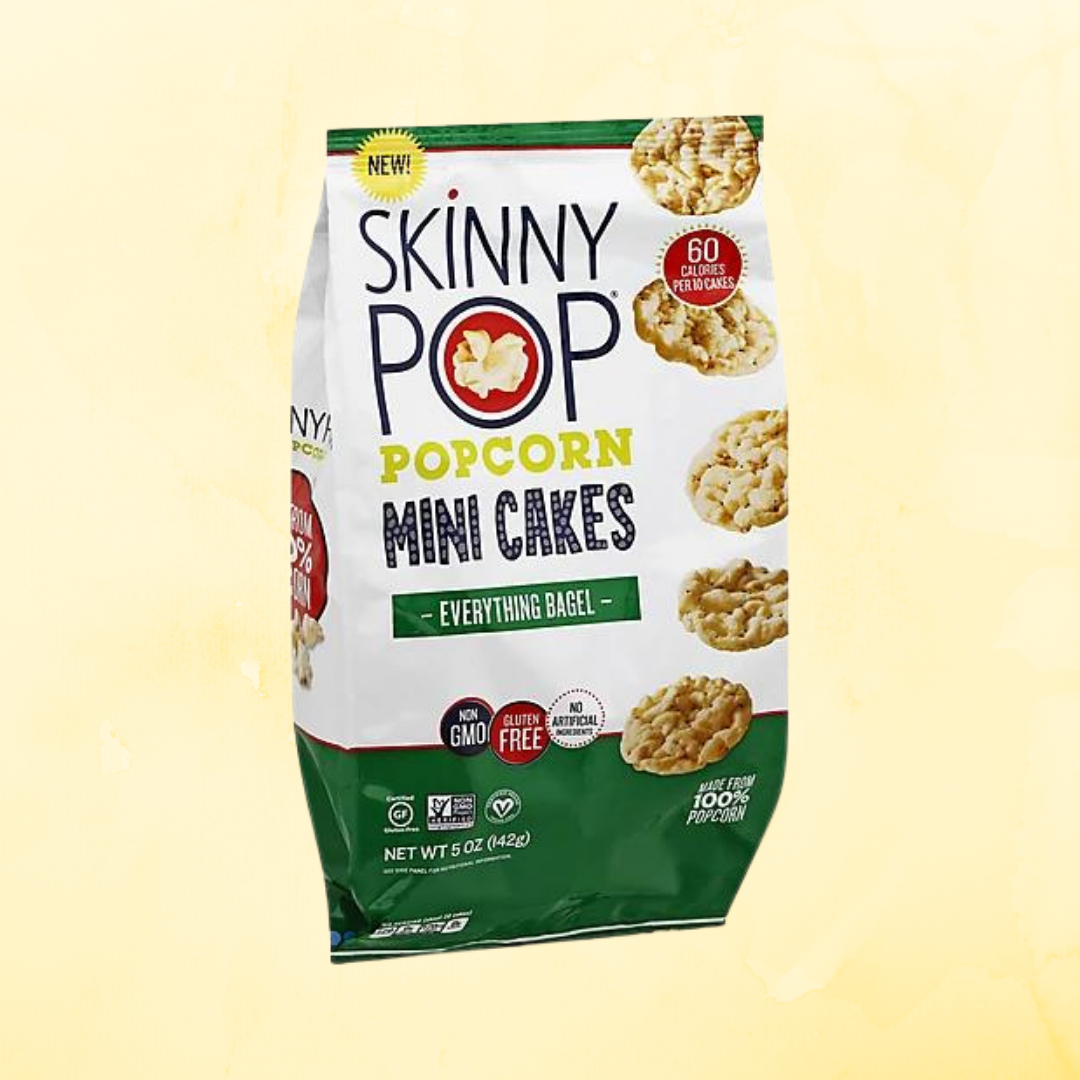 Skinny Pop
5 SkinnyPop Mini Cakes
This is not a rice cake. SkinnyPop molded its popcorn into a crunchy snack round and blasted it with everything seasoning—a far cry from the sad rice cakes of '90s diet culture.
The ingredients are minimal and the nutrition isn't bad for something so deliciously snackable. Just be warned if you take these to the office or on a plane—your co-workers or fellow flyers will hear you crunching away with delight. 
FIND IT HERE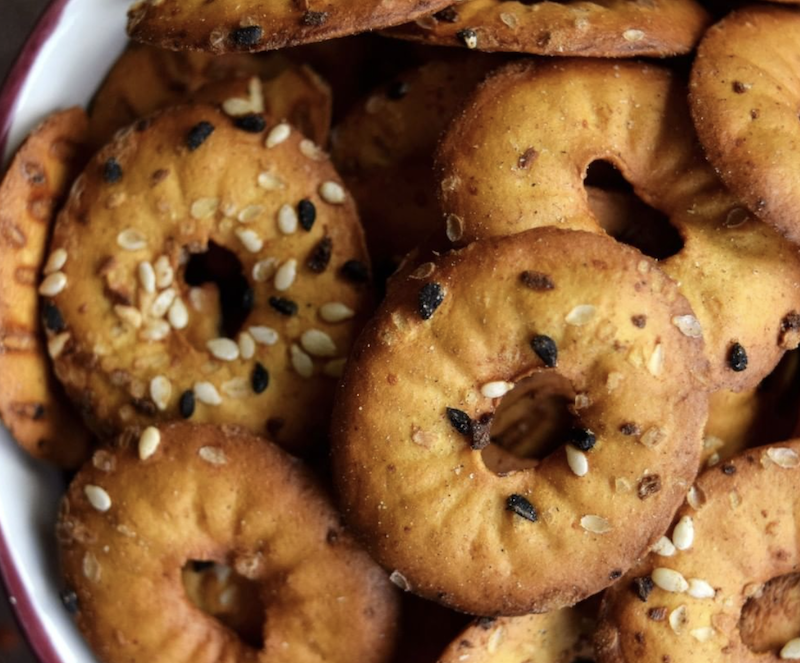 Pressels
6Pressel's "Everything" Thin & Crispy Pretzel Chips
There is a lot going on in these baked chips—and it's not just the everything seasoning. The seasoning vessel is a cross between a salted hard pretzel and a bagel chip.
Beyond basic snacking, these crisps make for excellent crostinis. Spread with a soft vegan cheese and top with a slice of cucumber for a quick party app that tastes like a professionally made hors d'oeuvres. 
FIND IT HERE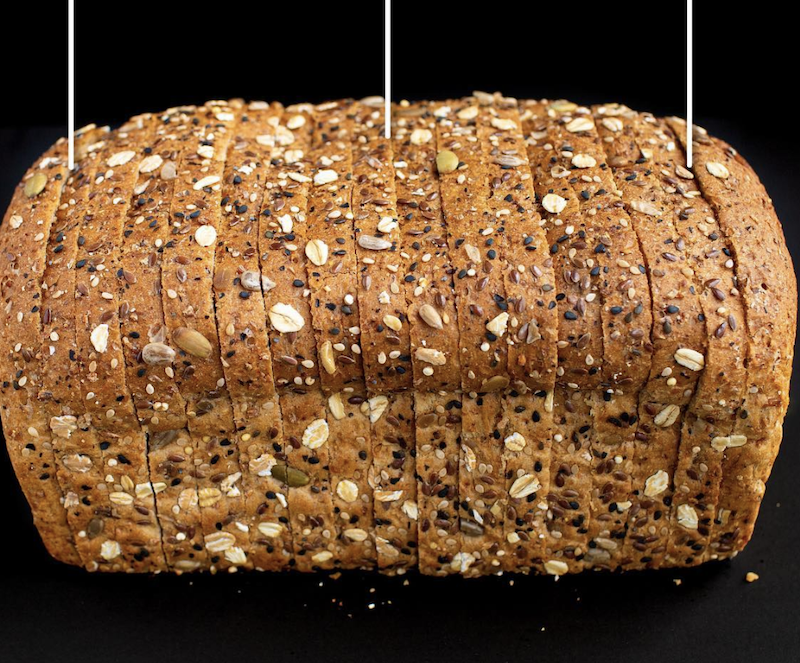 Dave's Killer Bread
7Dave's Killer Everything Breakfast Bread
One can only eat so many bagels. They're great and all, but nutritionally speaking they don't provide much of a lift. If you've hit your bagel quota but still crave that carby, everything taste, check out this sliced bread option. It's definitely more interesting than your standard white sandwich bread. 
FIND IT HERE
For more vegan eats, read:
Here at VegNews, we live and breathe the vegan lifestyle, and only recommend products we feel make our lives amazing. Occasionally, articles may include shopping links where we might earn a small commission. In no way does this effect the editorial integrity of VegNews.