There's a reason Trader Joe's is a cult favorite—it makes an ordinary chore of grocery shopping extraordinary. The equally inventive and appetizing products infuse a sense of fun and discovery into this otherwise mundane task. Plus, the brand has really upped its vegan selection, offering everything from vegan salmon spread to its own plant-based meats and cheeses. And that's particularly helpful right now, because, with the holidays just around the corner, it's the perfect time to gather with friends and family. 
Below, we've got the best vegan appetizer options fit for any celebration. But if you're planning a holiday party, don't stop at just Trader Joe's vegan food, you can also stock up on a great drink selection for your guests too. Here's how.
Vegan drinks at Trader Joe's 
The type of event and menu should guide your gathering's beverage selection, but Trader Joe's stocks vegan options for any type of event, from a kid's party to an adult-only dinner. For those who aren't old enough or choose not to partake in alcohol, try the Sparkling Pomegranate Punch or the Sugar Plum Sparkling Beverage. The grocer's Something Spritzy—a sparkling, canned drink with notes of grapefruit, cranberry, and orange—is another great festive option. 
Trader Joe's
For alcoholic options, the universal Charles Shaw brand of wine is vegan. While not top-shelf by any means, it's an affordable option for holiday sangrias. The chain's French Sparkling Wine range is also vegan, and for beer, there's JosephsBrau and Simpler Times Lager, for example.
If you're perusing the aisles and a bottle intrigues you, just run it by barnivore.com to ensure it's completely plant-based. This comprehensive database contains more than 56,000 alcohol entries and offers a handy search option so you can quickly check any kind of beer, wine, or liquor you're interested in purchasing. (VegNews also has convenient vegan wine and beer guides for quick reference!)
13 party-ready vegan appetizers at Trader Joe's
So you've got the soda and the booze, now it's time for the really important part: the food. All of these appetizer ideas feature Trader Joe's products, and of course, they are tasty, vegan, and guaranteed to please a crowd.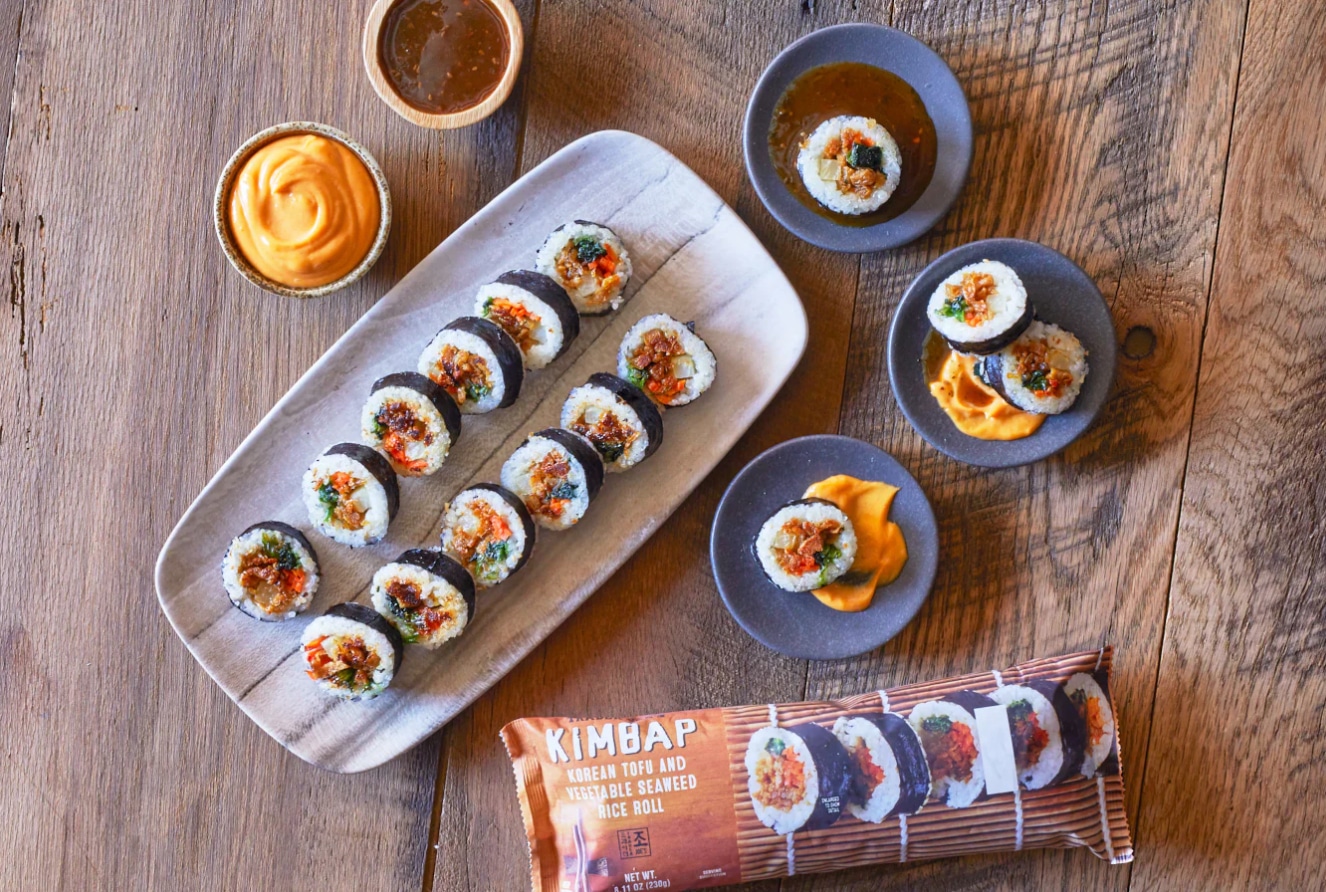 Trader Joe's
1 Kimbap
Infuse international cuisine into your holiday celebrations with kimbap. New to the aisles of this cult favorite grocer, this vegan-friendly Korean dish comes together in a flash. Simply heat up in the microwave and place on a serving tray. Gussy it up with a thin coating of sesame oil and a sprinkle of sesame seeds (or, if you're feeling adventurous, Everything but the Bagel Seasoning).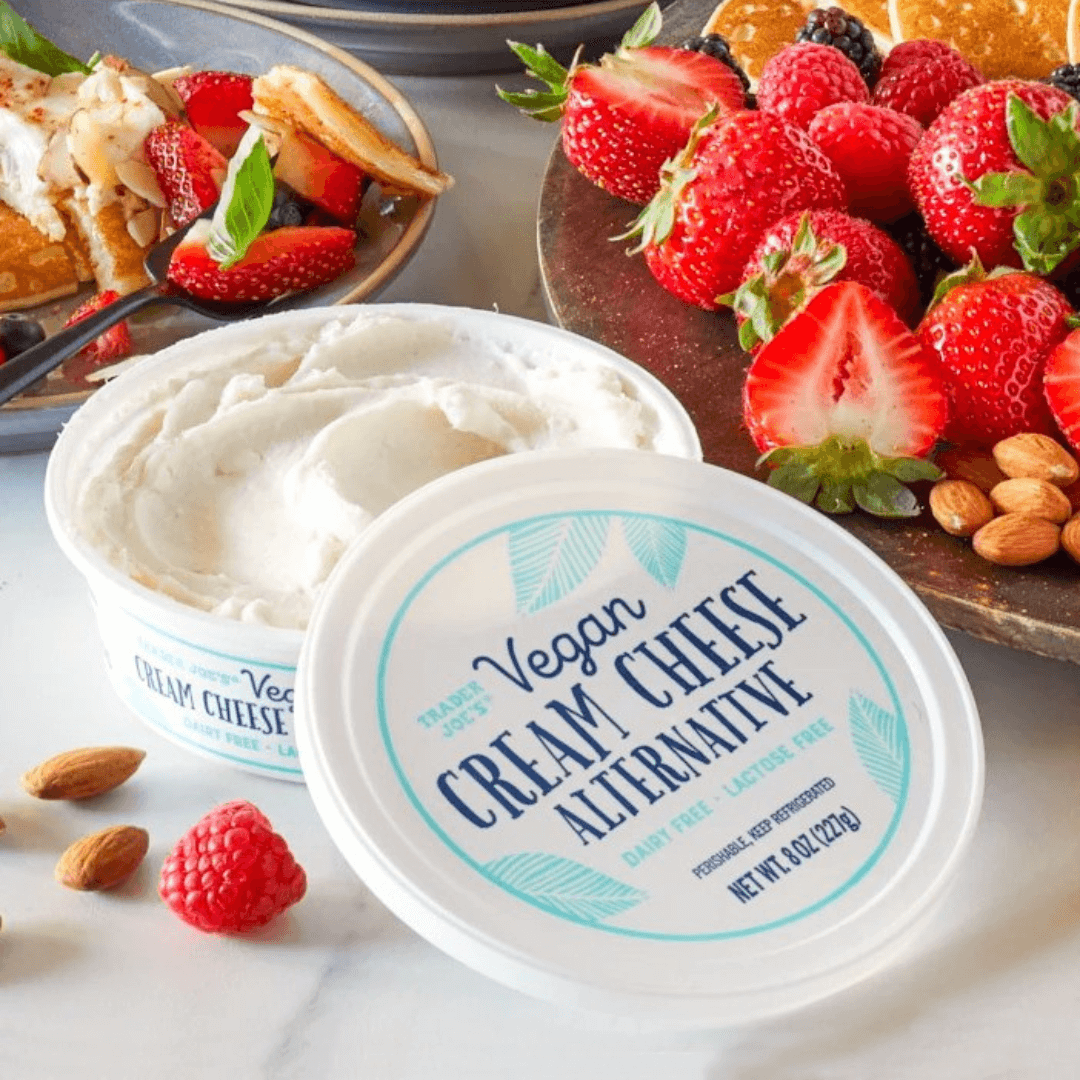 @godairyfree/Instagram
2 Pumpkin Dip
What's a fall gathering without a dash of pumpkin-flavored treats? Mix a tub of Trader Joe's vegan cream cheese with a tablespoon of canned pumpkin purée and a tablespoon of maple syrup for a sweet dip reminiscent of fall. Serve with sliced apples and pears, jicama sticks, or plantain chips. Not into pumpkin? Trade pumpkin purée for a tub of Trader Joe's Fresh Cranberry Sauce for an equally satisfying treat.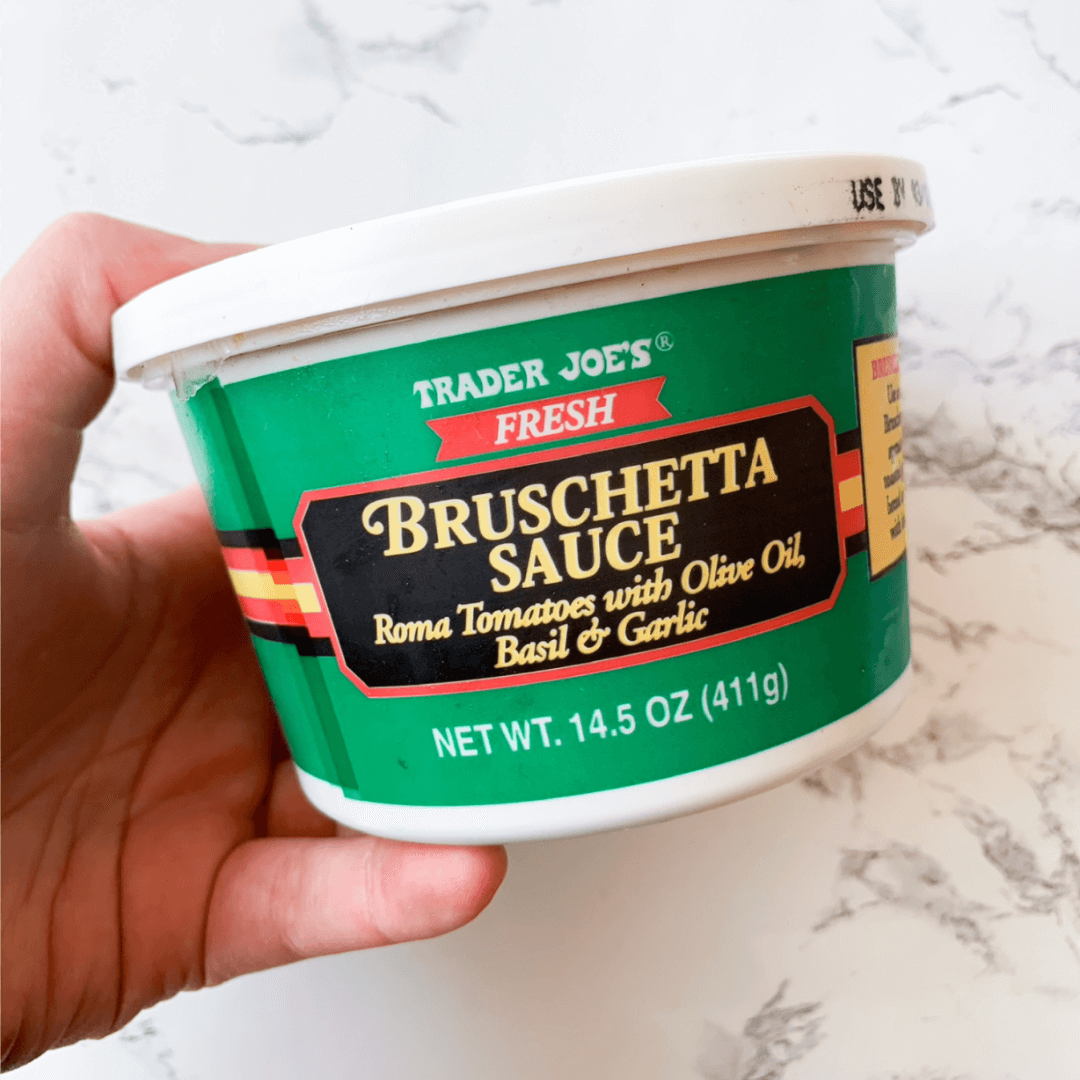 @MrsTraderJoes/Instagram
3 Lentil Feta Bruschetta Dip
Sampling is back at Trader Joe's, and the team is getting creative with vegan options. This three-ingredient, homemade dip combines the brand's Bruschetta Sauce with cubed vegan feta and packaged steamed lentils for a protein-packed appetizer that's just begging for a toasty pita chip. We'd never think to combine these products together, but it definitely works.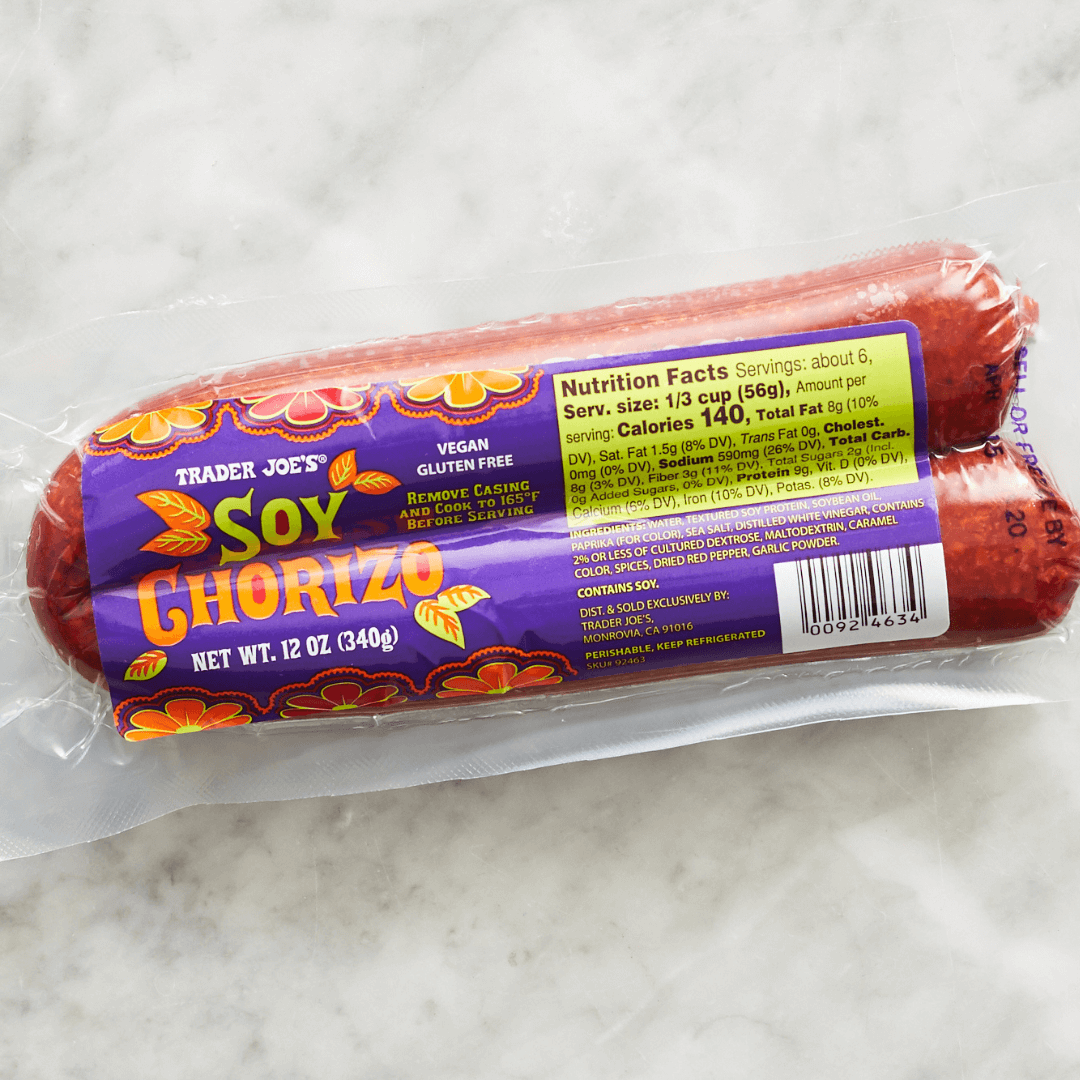 @TheKitchn/Instagram
4 Cheesy Spicy Soyrizo Dip
For those who love a good cream cheese-based dip, this one's for you. Brown Trader Joe's Soyrizo in a non-stick pan then add a tub of vegan cream cheese. Loosen the consistency by adding a few splashes of non-dairy milk then stir until you've got a well-combined, thick dip. Turn off the heat and add an optional can of drained diced tomatoes or pico de gallo. Serve this indulgent, slightly spicy spread warm with Trader Joe's plantain or tortilla chips.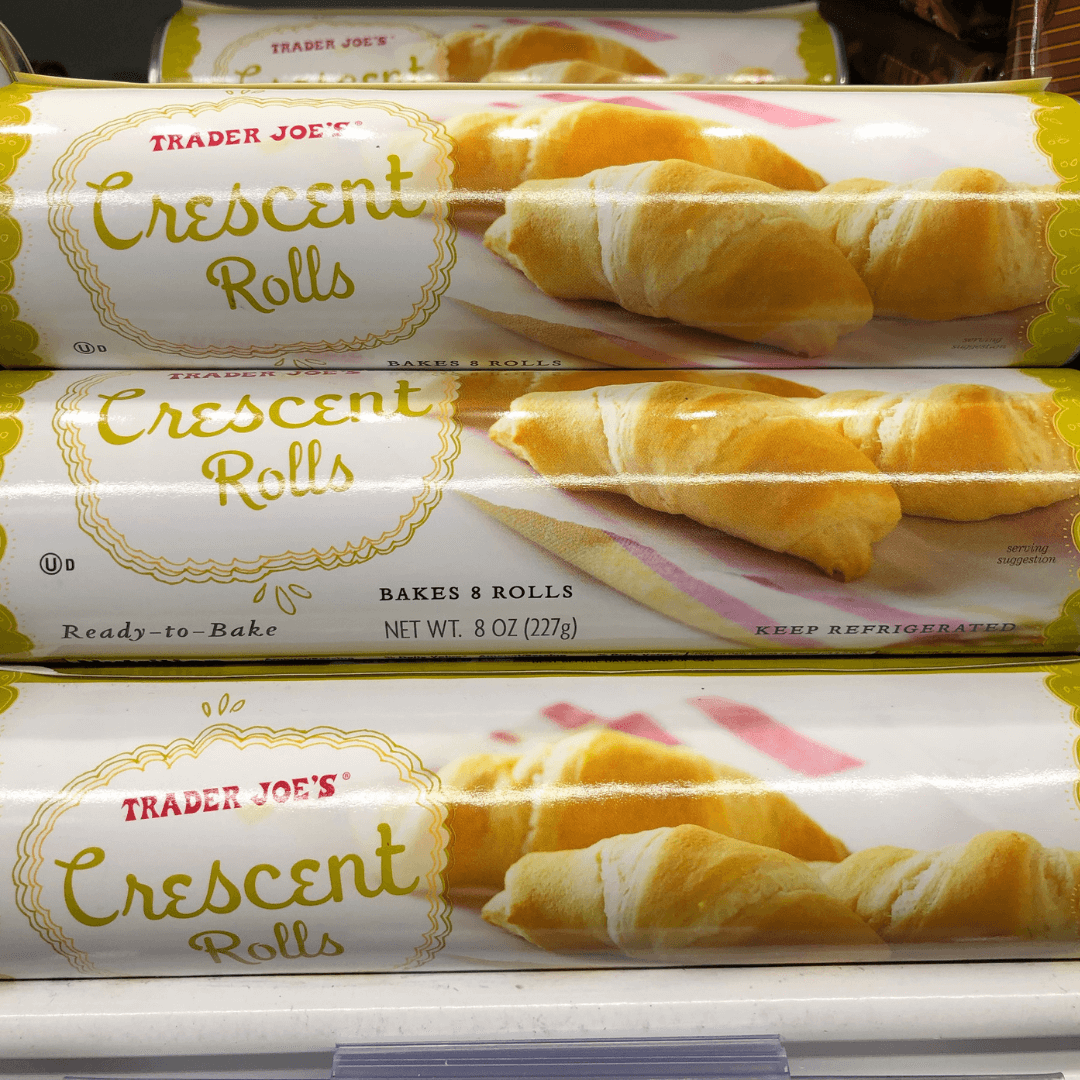 @veganista/Instagram
5 Vegan Pigs in a Blanket
Some parties just call for something nostalgic and familiar, and vegan pigs in a blanket never fail to delight. Like many pop-can doughs, Trader Joe's crescent rolls are vegan. Use them to wrap TJ's vegan hot dogs (or pieces of vegan hot dogs), then spray the dough lightly with olive oil spray and sprinkle with Everything but the Bagel Seasoning. Bake at 350 degrees for 12 minutes, then serve warm with spicy dijon mustard or other appetizing TJ's-branded condiments.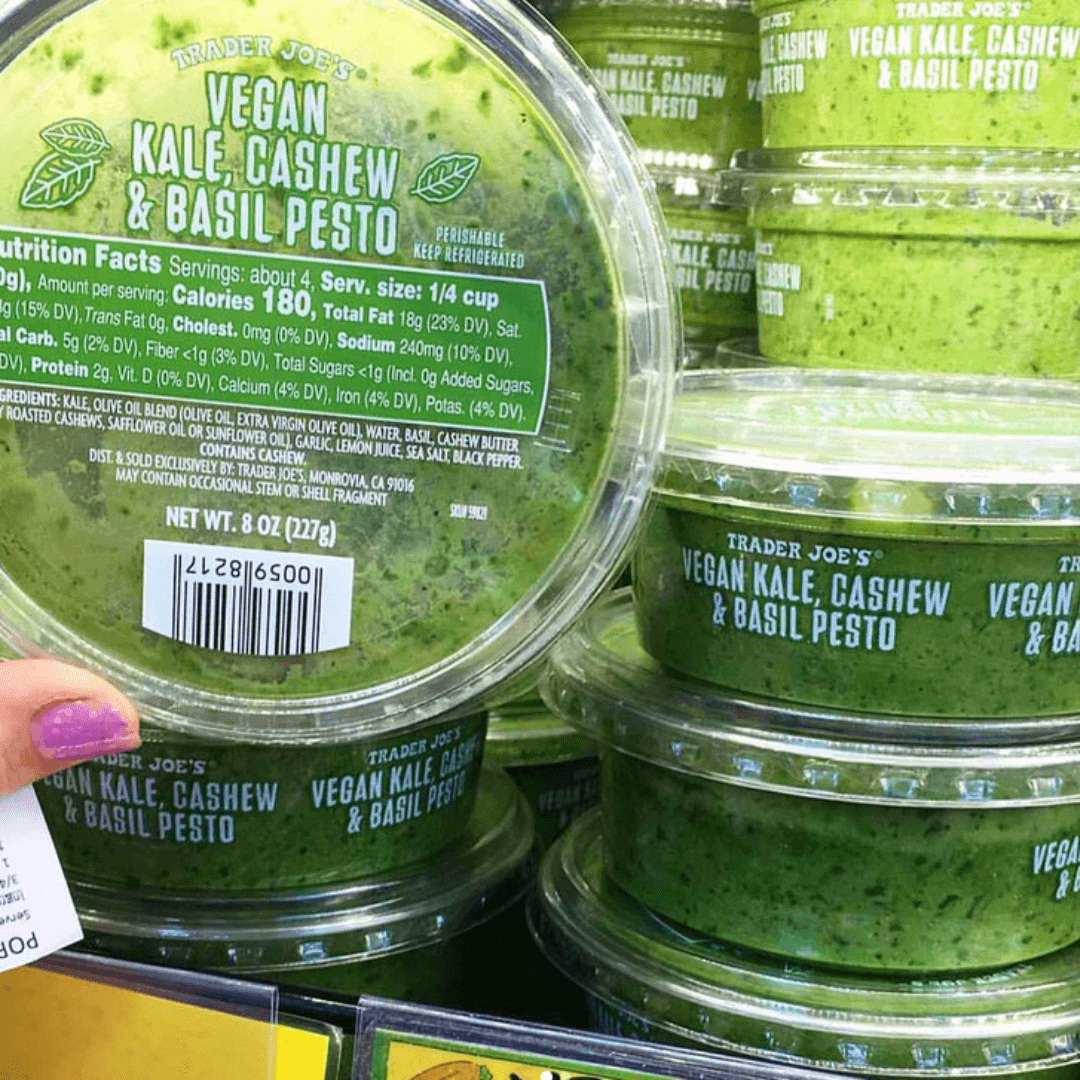 Trader Joe's
6 Cheesy Pesto Crescent Rolls
For a more sophisticated finger food that doesn't involve mini vegan hot dogs, give this easy appetizer a go. Roll out each crescent triangle and slice in half length-wise to create two long triangles. Spread each with Vegan Kale, Cashew & Basil Pesto then carefully roll into a tiny crescent. Bake at 350 degrees for 12 minutes. Serve on a platter garnished with fresh rosemary.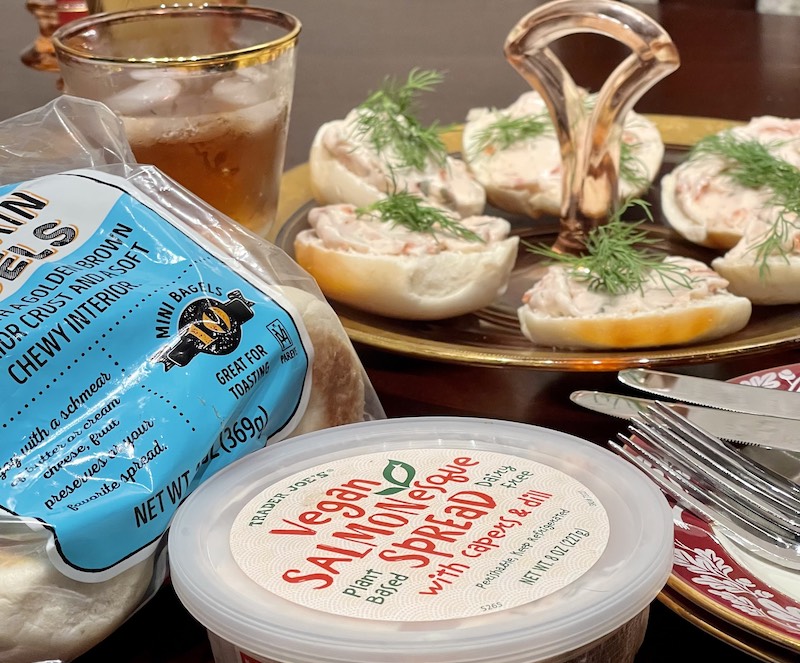 Rose Bruno Bailey 
7 Mini Lox Bagels
Hosting a holiday brunch? Delight your guests with these New York-worthy mini lox bagels. Schmear Trader Joe's toasted mini bagels with Vegan Salmonesque Spread and garnish with capers and fresh dill. Pair the meal with sparkling white wine or champagne.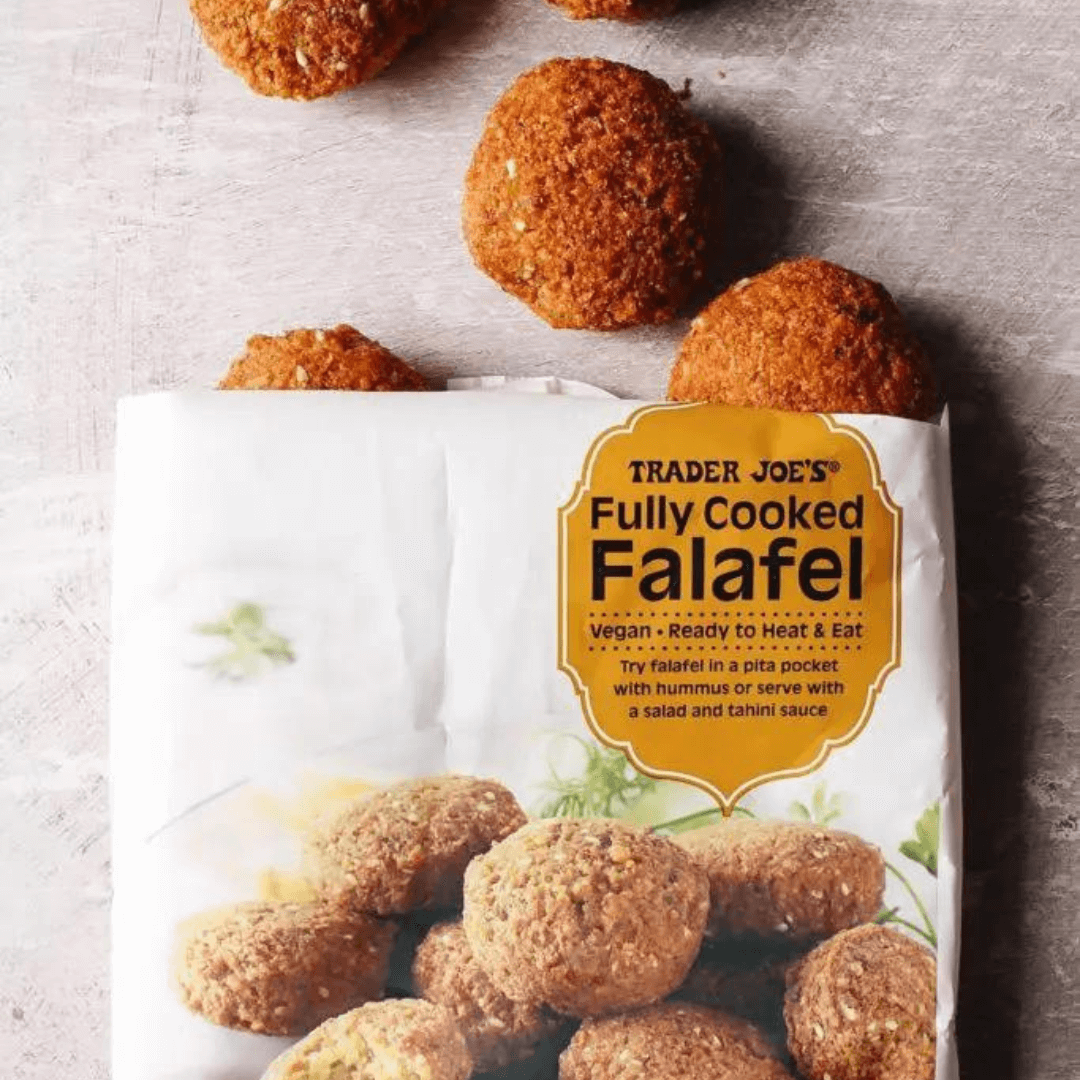 @Thefigjar/Iinstagram
8 Falafel Platter
Create a heat-and-eat appetizer spread with just a few exceptional TJ's products. Air-fry or bake a package of Trader Joe's Fully Cooked Falafel and serve on a board with Vegan Tzatziki Dip, an array of hummus, warmed pita bread, and Quinoa Stuffed Dolmas.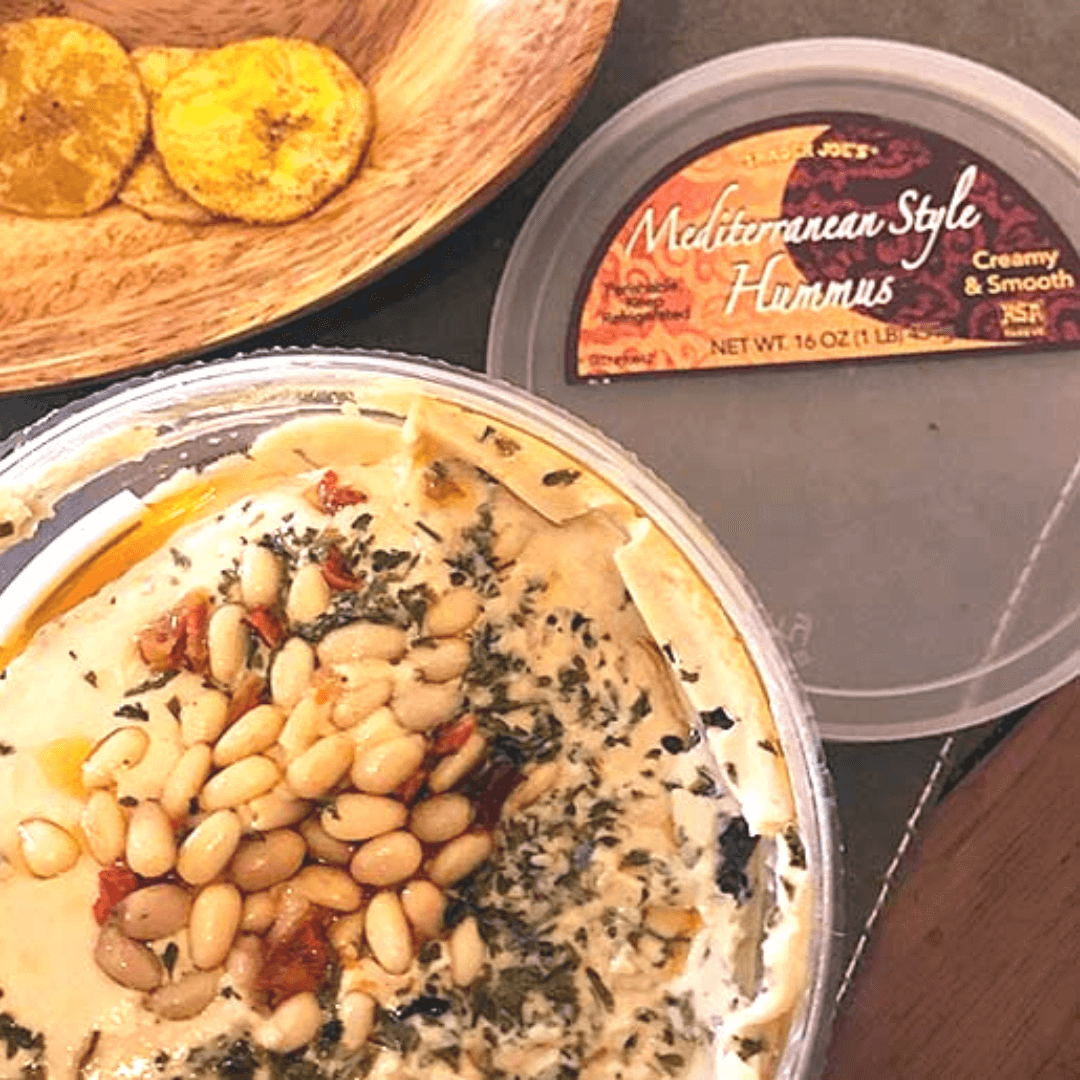 Trader Joe's
9 Mediterranean Charcuterie
In lieu of a vegan cheese board, try this lightened-up version. Drain canned olives and marinated artichokes and arrange on a platter alongside Trader Joe's Vegan Feta, Trader Joe's Mediterranean Hummus, warmed pita, and assorted vegetable sticks (carrots, jicama, celery, and pepper strips are great). Everyone loves a good grazing platter.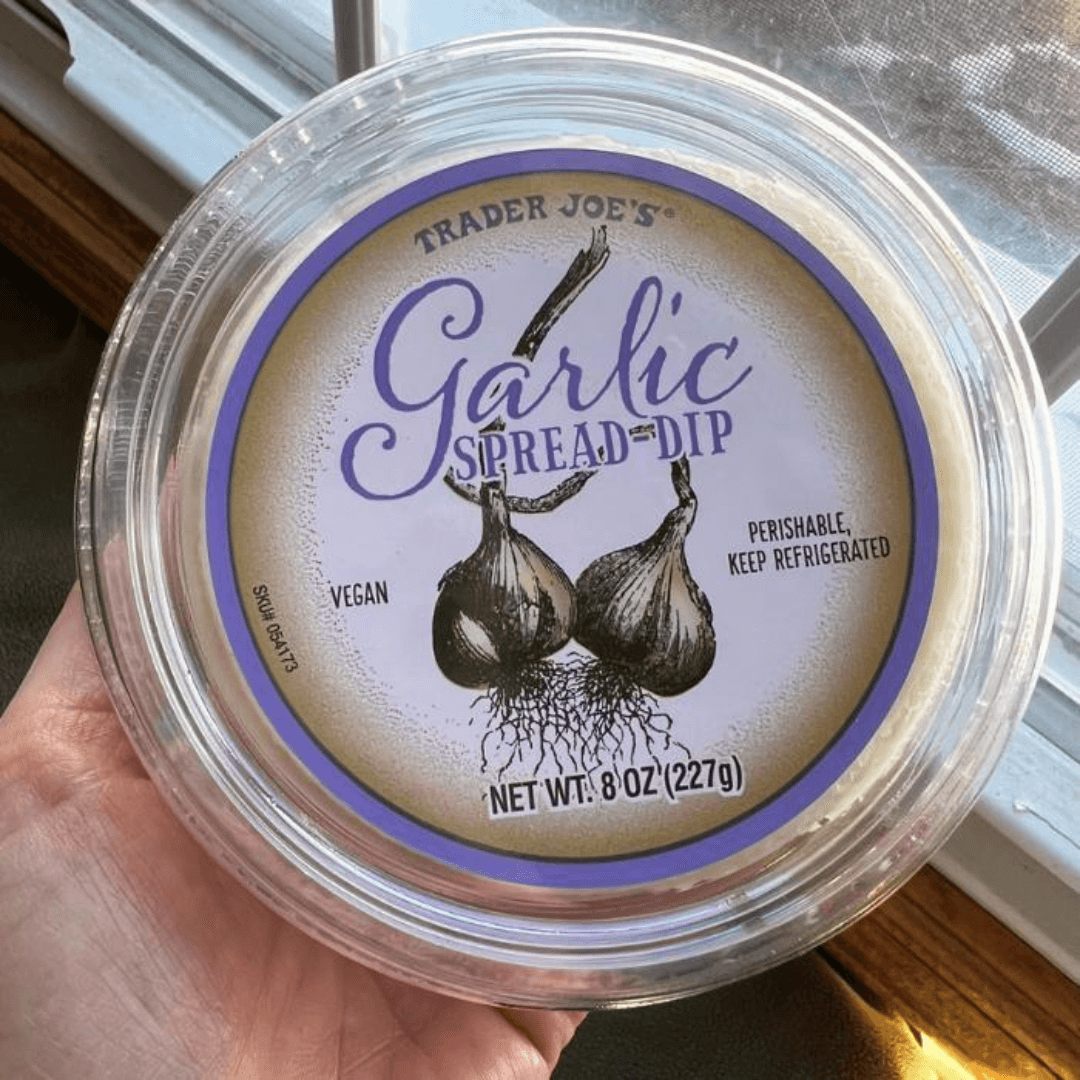 @veganshowoff/Instagram
10 Canapé
A canapé is simply a small hors d'oeuvres that can be enjoyed in one bite, traditionally served on a round cracker or pastry. While classically served at soirées and fancier events, they don't have to be fussy. Take a Trader Joe's Pita Cracker, slather with Trader Joe's Garlic Spread and Dip, then top with a radish slice and a leaf of fresh parsley.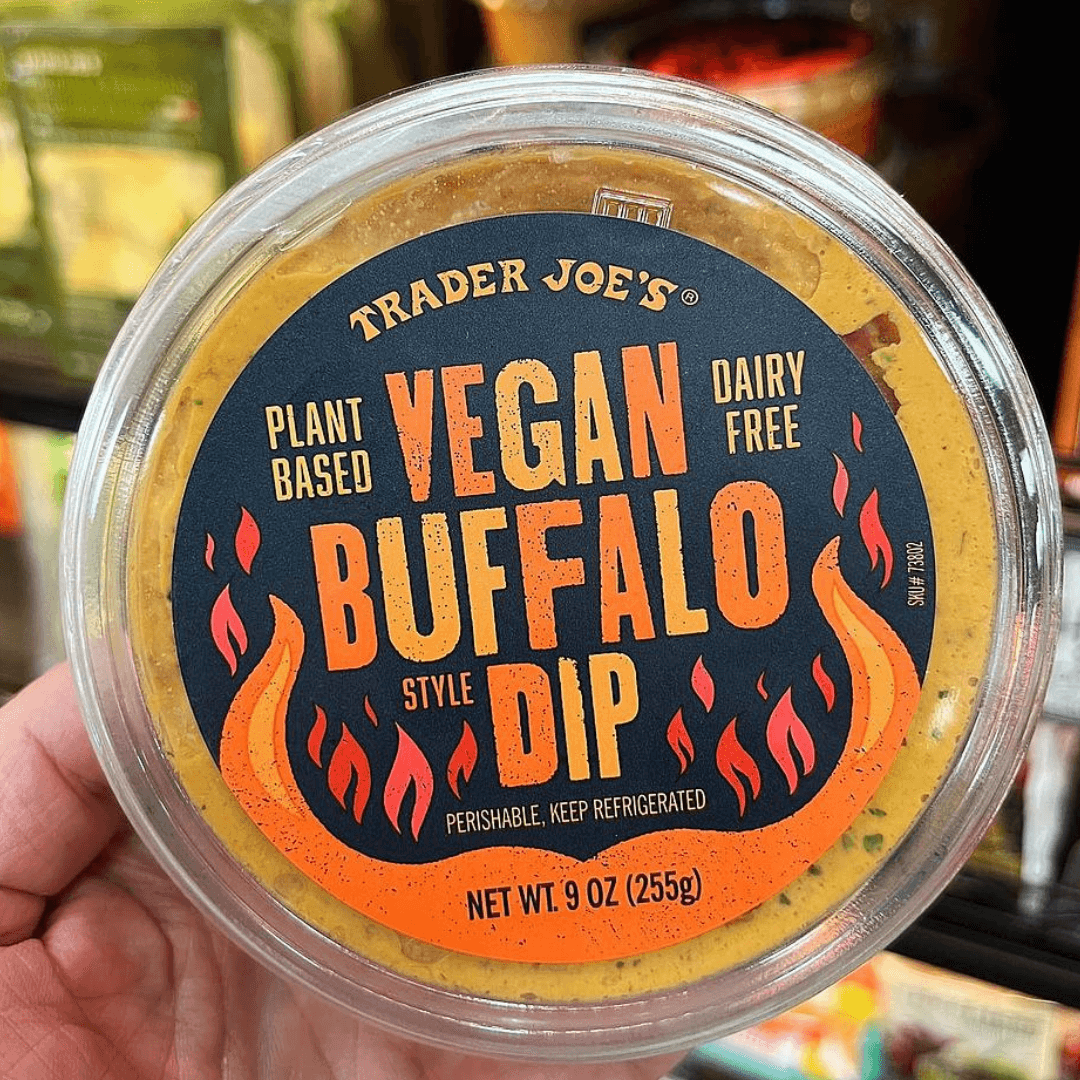 @bigbobxvegan/Instagram
11 Vegan Buffalo Mini Potato Bites
If your Thanksgiving celebration typically involves a game of football, this is the perfect appetizer. A classic veggie board is sure to satisfy when paired with Trader Joe's buffalo dip, but if you're looking to amp up your bites, we've got just the app for you. Toss mini potatoes in a bit of olive oil and bake in a 350-degree oven until fork-tender. Cut each in half and carefully scoop out some of the potatoes to create a well. Place the scooped-out potato into a bowl with a scoop of Trader Joe's Vegan Buffalo Dip and mix. Scoop this filling into each carved-out potato, top with dairy-free Trader Joe's mozzarella shreds, and bake once more for 15 minutes or until the cheese has melted. Serve with vegan ranch for dipping.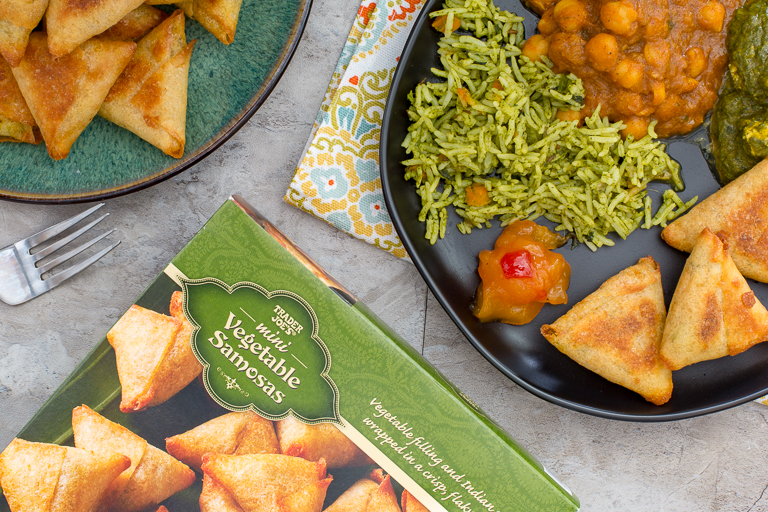 Trader Joe's
12 Go frozen
Those truly adverse to cooking can rely on TJ's frozen section for a throw-together gathering. Crowd-pleasers include Crispy Vegetable Pouches, Mini Vegetable Samosas, and Thai Vegetable Gyoza. All pair well with Trader Joe's Gyoza dipping sauce. For added spice and crunch, pair with the grocer's award-winning Crunchy Chili Onion.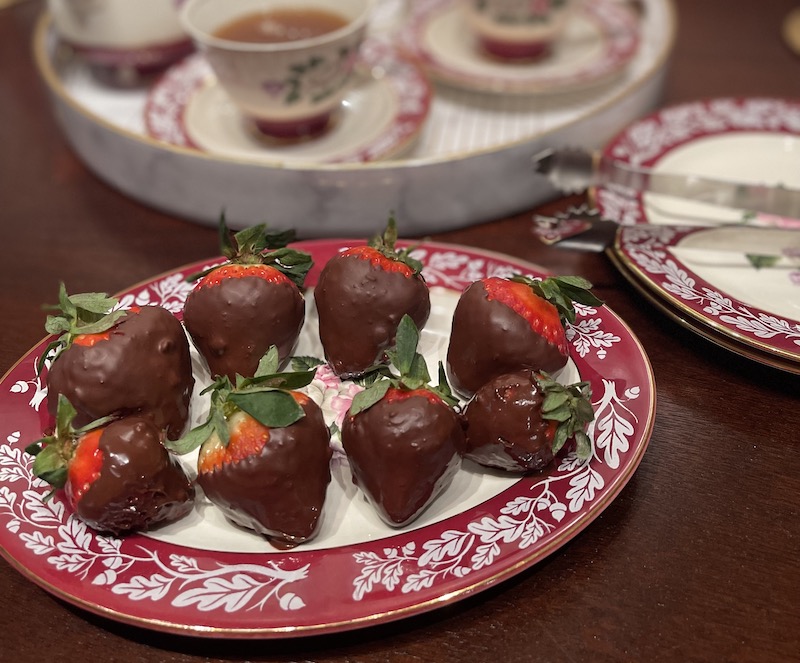 Rose Bruno Bailey
13 Chocolate-Covered Sweets
Chocolate-covered strawberries always taste better when you make them yourself, probably due to the fact that you can control the quality of chocolate and the freshness of the strawberries. Melt Trader Joe's Semi-sweet Chocolate Chunks in a microwave for 30 seconds, then stir. Continue microwaving and stirring in 10-second intervals until completely melted. Dip washed and dried strawberries into the bowl of chocolate and place on a wax paper-lined surface for the chocolate to harden. For added variety, grab a bag of the grocer's dried oranges and dip into your melted chocolate. Dessert is done. 
For more vegan Trader Joe's finds, read: