Basketball fans attending games at Madison Square Garden (MSG) in New York City and the American Airlines Center (AAC) in Dallas, TX have something new to cheer about: a more extensive vegan menu. 
Vegan food company Beyond Meat is now the first-ever Official Plant-Based Meat Partner of MSG—home of the NBA's New York Knicks and the NHL's New York Rangers. This partnership has resulted in the launch of an exclusive concession stand called the Go Beyond Grill. 
Beyond Meat
Located on the sixth-floor concourse of MSG, the stand offers a broad array of Beyond Meat's plant-based products during basketball games, concerts, and other events. 
"Beyond Meat's environmentally friendly, nutritious products are a perfect match for Madison Square Garden as we continuously strive to deliver a wide array of food and beverage options for our fans—with a focus on sustainability," David Hopkinson, President and COO, MSG Sports, said in a statement. 
"We are so proud to welcome Beyond Meat to the MSG family as our first-ever Official Plant-Based Meat Partner," Hopkinson said. 
Madison Square Garden's new vegan menu
MSG's new concession stand is stocked with an array of Beyond Meat products which are featured in several internationally inspired dishes. 
"Madison Square Garden is one of the world's most iconic venues, reaching millions of consumers each year through their robust schedule of sports, music, and live entertainment events," Akerho "AK" Oghoghomeh, Senior Vice President of Global Marketing at Beyond Meat, said in a statement. 
"We are proud to partner with The Garden to bring increased choice to their fans and make it even easier for event attendees to Go Beyond this season with food options that are not only delicious and satisfying, but that provide robust nutritional and environmental benefits," Oghoghomeh said. 
Among the menu items is the Beyond Burger Broadway Edition, which features two Beyond Smashable Burger patties, plant-based cheese, shredded lettuce, tomato, and a special Rafters sauce, all served on a toasted sesame seed bun. 
For those fond of German cuisine, the Beyond OG Bratwurst Sausage will offer a Beyond Sausage Brat Original link topped with caramelized onions and German mustard in a toasted roll.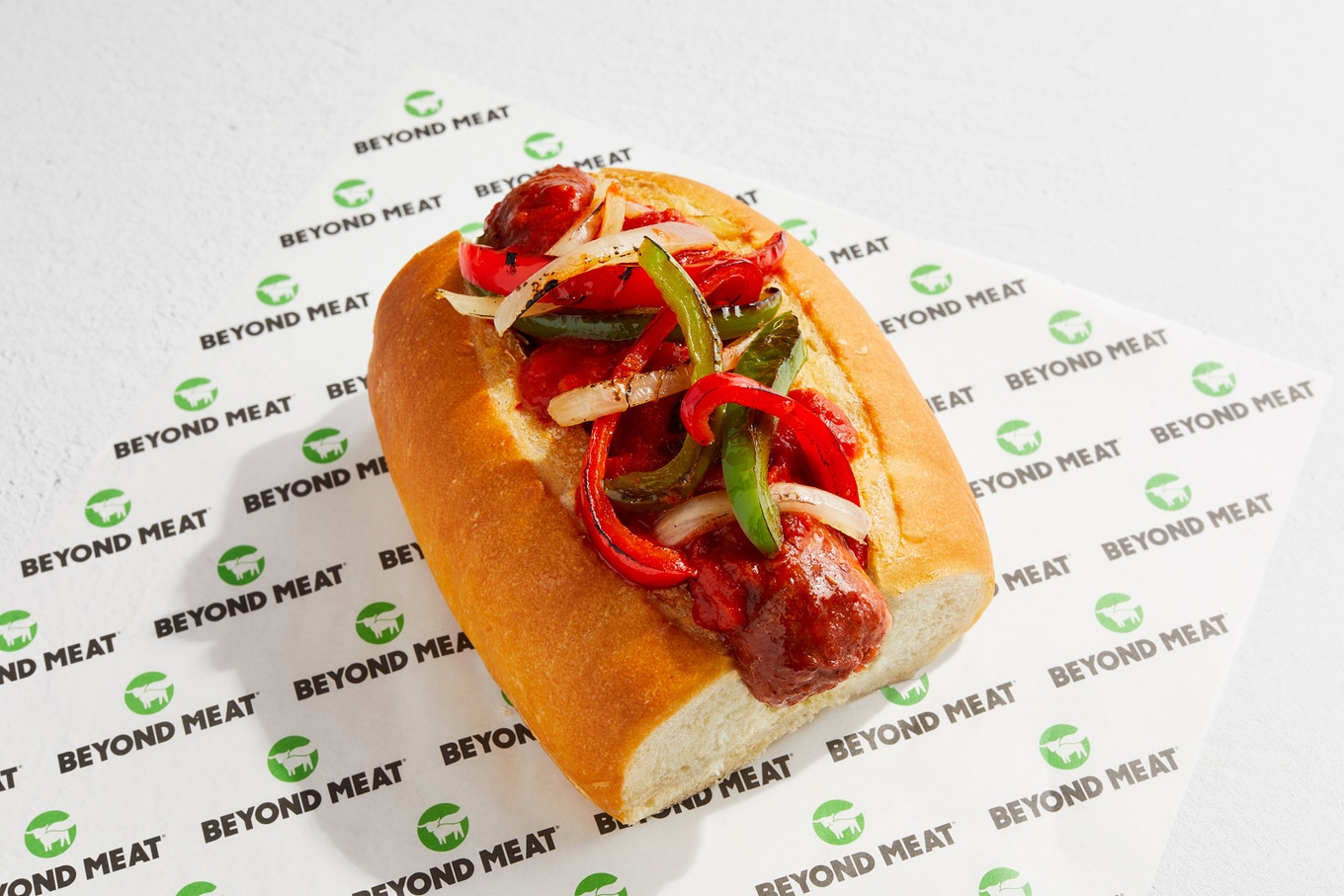 Beyond Meat
Adding some Italian flair, the Beyond Spicy "Showtime" Sausage consists of a Beyond Sausage Hot Italian link covered in marinara sauce and accompanied by peppers and onions in a toasted roll. 
For nacho lovers, there's the Beyond Empire State of Nachos, which features Beyond Steak on crispy tortilla chips, topped with plant-based nacho cheese sauce, pico de gallo, and pickled jalapeños. 
Rounding out the menu are Beyond The Garden Steak Tacos, featuring Beyond Steak with salsa verde, pico de gallo, and micro cilantro in warm flour tortillas; and Beyond Chili and the City, a chili dish that includes Beyond Beef sautéed with onions, crushed tomatoes, and kidney beans in a flavorful chili sauce.
Mavericks fans get new vegan options, too
This NBA season, the AAC in Dallas, TX is also upping its plant-based fare. New selections include a nutrient-rich bowl consisting of quinoa, spinach, chickpeas, cucumbers, and tomatoes, accompanied by a vinaigrette dressing at Market to Go; along with vegan tacos filled with plant-based meat and nachos topped with a dairy-free cheese sauce made in-house at El Taco Tex. 
These three newer selections join existing Gold Lion plant-based burgers and hot dogs.
Vegan food first found popularity at the AAC during a "Vegan Night" hosted by the NHL's Dallas Stars, which featured vegan burgers and brats by Beyond Meat.
These were served alongside plant-based Reuben sandwiches made with corned beef by Mrs. Goldfarb's Unreal Deli—backed by Maverick's owner Mark Cuban, who invested in the vegan business on a 2019 episode of Shark Tank.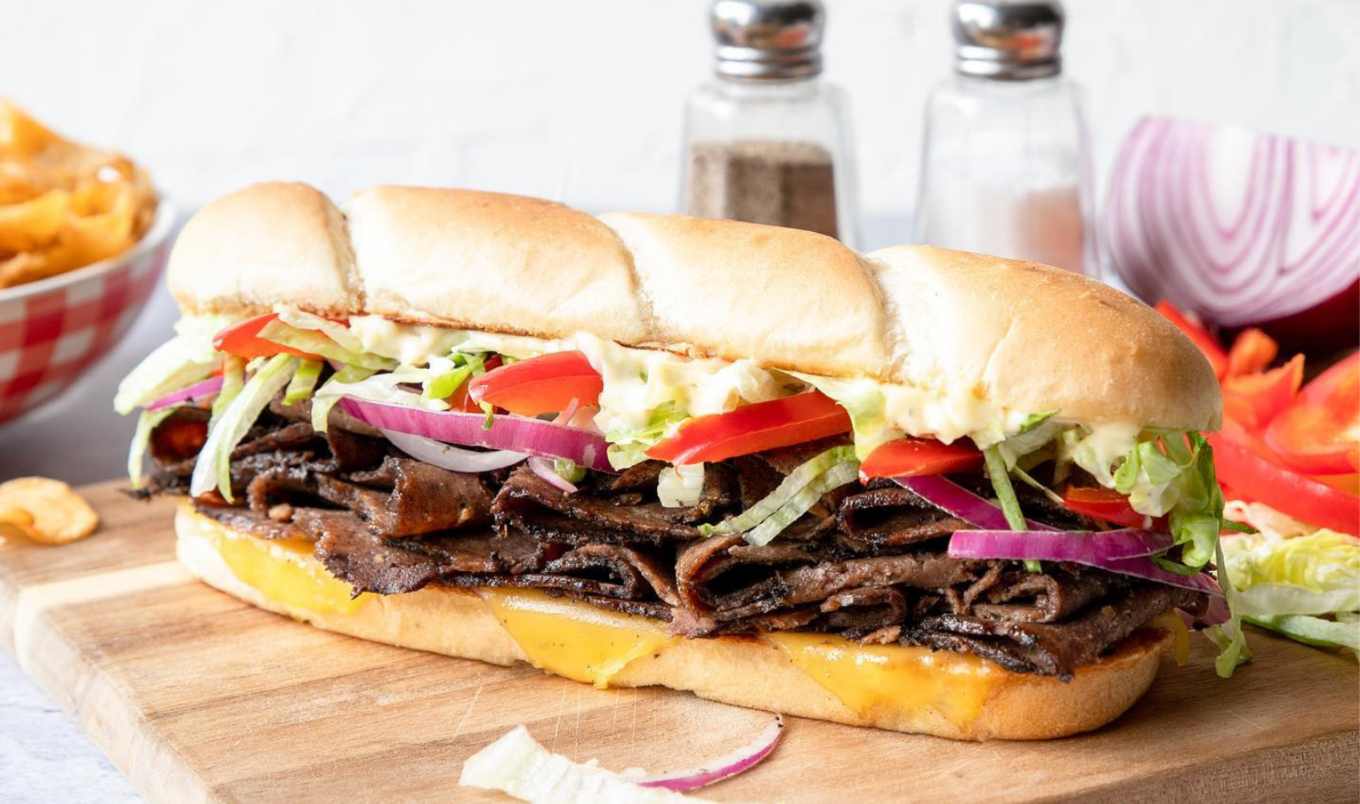 Unreal Deli
Since Cuban's investment, Unreal Deli has expanded its footprint beyond AAC to retailers such as Whole Foods Markets, Sprouts, and Costco, along with restaurant menus. Its vegan meats have also found celebrity appeal, including through catering to Los Angeles movie studios such as Netflix's Sunset Bronson Studio Lot and 20th Century Fox's Studio Lot.
Both MSG and the AAC are aligning with broader sustainability goals. The introduction of plant-based options fits New York City's objective to reduce greenhouse gas emissions by 33 percent by 2030. 
Meanwhile, in Dallas, the partnership with Unreal Deli highlights Cuban's interest in sustainable business ventures, which also includes investments in Black-owned vegan burger company Everything Legendary; vegan jerky brand Pan's Mushroom Jerky; plant-based bacon brand Umaro Foods; dairy-free milk machine Numilk; and more. 
For the latest vegan news, read: