Princess Cruises has seriously upgraded its vegan options. The American cruise company recently announced a new plant-based menu that is currently being rolled out on all 15 of its ships, which includes liners like the Royal Princess, the Caribbean Princess, and the Sky Princess.
According to Princess Cruises, which is owned by the Carnival Corporation, the new menus "exemplify the fusion of gourmet creativity and eco-consciousness." Dishes include starter, salad, soup, pasta, and main options, like Fettuccine with Walnut Sauce, for example, as well as Stir-Fried Portobellos with Soy-Maple Sauce, French Potato Salad with Dijon Mustard and Fine Herbs, Chickpea Noodles, and Baja-Style Cauliflower Tacos.
The meals can be requested ahead of time via the Princess Cruises Cruise Personalizer platform, or while customers are onboard.
Sami Kohen, the company's vice president of food and beverage, noted that the new vegan menu has been designed to keep up with changing consumer habits. Research suggests that nearly half of Americans now describe themselves as flexitarian. This means that while they are not completely vegan or vegetarian, they are moving away from meat and more towards plant-based foods.
Princess Cruises
The lifestyle is becoming more popular around the world, too. In April 2022, one study by Beneo GmBH evaluated more than 12,000 consumers from 10 countries and found that around one in four are flexitarian.
"Our dedication to delivering unforgettable culinary experiences continues to evolve with current trends, including the desire for more vegan offerings," Kohen said in a statement. "Our new plant-based dinner menus offer our vegan guests an extraordinary culinary journey while providing reassurance and peace of mind with dishes they know meet their lifestyle preferences."
Major airlines are also responding to the shift in consumer dining habits. Just recently, Virgin Atlantic announced that its new fall menu would include more plant-based and vegetarian meals for its Upper Class, Premium, and Economy Delight passengers. Examples include Vegan Dijonnaise, Toasted Fava Beans, and Tarragon, Panko-Coated Tofu with Katsu Vegetable Curry, and plant-based Pots & Co chocolate pots.
"At Virgin Atlantic, we're always looking to create memorable moments onboard, which is why we strive to offer an unmatched, contemporary, and extensive selection of dishes across our cabins," Virgin's Chief Customer and Operating Officer Corneel Koster said.
Cruises and airlines embrace vegan options
The announcement from Princess Cruises follows similar news from Carnival Cruise Line, which, like Princess, is owned by the Carnival Corporation. Last month, it revealed it was rolling out a new vegan menu across all 24 of its ships, which includes liners like the Carnival Freedom and the Carnival Horizon.
The menu features dishes like Hawaiian Salmon Poke with plant-based salmon and Spaghetti Carbonara with vegan bacon, as well as Grilled Tofu Steak and Eggplant Cutlet. 
Again, Richard Morse, Carnival Cruise Line's senior vice president of food and beverage noted that the new menu had been crafted in response to growing consumer demand. "Plant-based food options are a rising preference on our ships just as they are on land, and so the new dishes we're introducing are a direct response to that shift," he said in a statement.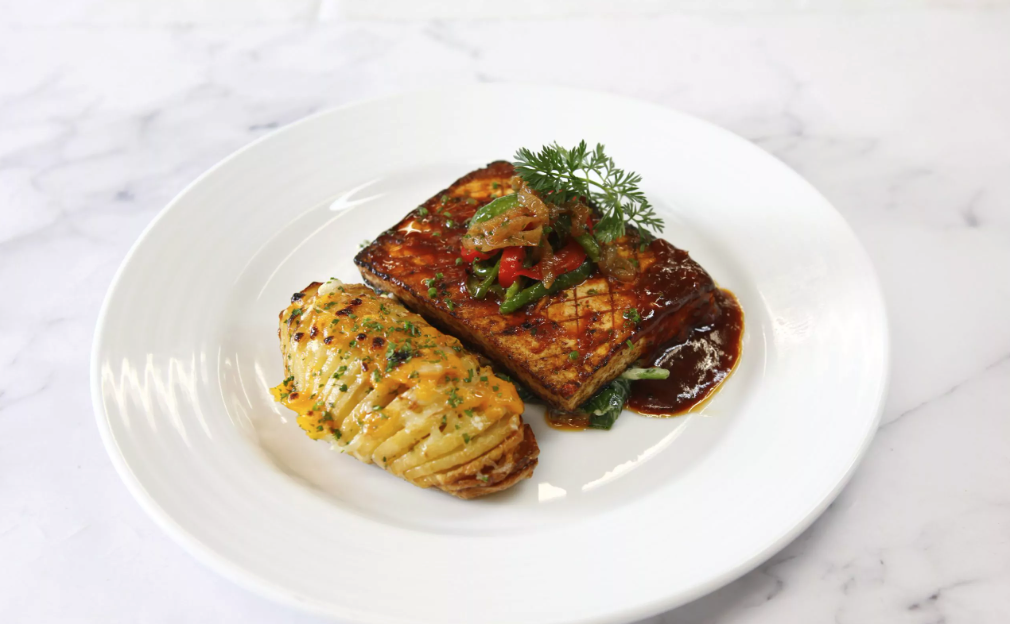 Carnival
"Our skilled chefs work to accommodate all dietary needs and preferences but building on our vegan offerings and emphasizing them with specific menus will help to make ordering easier in the dining room and preparation more efficient in the galley," he added.
Other cruise companies to launch new vegan options recently include Regent Seven Seas Cruises, Aida Cruises, Celebrity Cruises, and Disney.
United Airlines also added plant-based Impossible Meatball bowls to its first-class menu last year, and you can also find vegan meals onboard Emirates, Singapore Airlines, American Airlines, Alaska Airlines, and more (find our comprehensive guide here!).
Travel in general is becoming more vegan-friendly. If cruising isn't your thing, you can also find plenty of vegan resorts and hotels all over the world. Check out our top 16 choices, which include luxury vacation spots in places like Punta Mita, Mexico, Tamarindo, Costa Rica, and Koh Phangan, Thailand. If you'd prefer not to leave the US, you can also find our top 10 list of the most vegan-friendly hotels in America here.
For more vegan vacation ideas, read: