Everyone can make a cake. At the most basic level, a boxed mix will suffice. However, there is no boxed mix for pie. Pie is more complex, and consequently, more impressive. One must master a crust that is both buttery and flaky yet pliable enough to manipulate into a detailed lattice. 
Next, there is the filling—fruit fillings must not leak, and creamy fillings need to set just right, and not to mention the toppings ranging from fluffy whip to a sugary crumb. Then add in the fact that vegan pies can't use the usual animal ingredients, and it all sounds a bit complicated and overwhelming. 
HealthyGirl Kitchen
But fear not: we're here to put your mind at rest and help you make any pie honey-,  egg-, and dairy-free with ease. (Seriously, pretty much any pie you like!) From the perfect plant-based graham cracker crust to the crunchiest chickpea-based aquafaba meringue topping, we've got all of your vegan pie needs covered below. Ready, set, bake! 
What is vegan pie?
Many conventional pie recipes call for eggs, butter, cream, and milk. All of these ingredients come from animals, but rest assured, none are essential when it comes to making a delicious pie. Vegan pies don't use any animal ingredients, but they don't sacrifice on taste either—you can make all the same creamy fillings, crunchy crusts, and crumbly toppings.
How to make a vegan pie
To make a vegan pie, all you need to do is make a few swaps. Dairy butter or cream can be swapped for vegan alternatives, for example, and there are plenty of plant-based egg replacer ingredients to choose from (for a comprehensive guide to vegan baking swaps, check out our guide here). But don't worry, we're here to guide you through the whole process. 
Making a vegan pie crust 
We all know it—flaky, melt-in-your-mouth, perfectly crimped pie crust. Unfortunately, it's not always as malleable as Snow White makes it look as she's rolling and folding dough into pie pans while the birds chirp around her.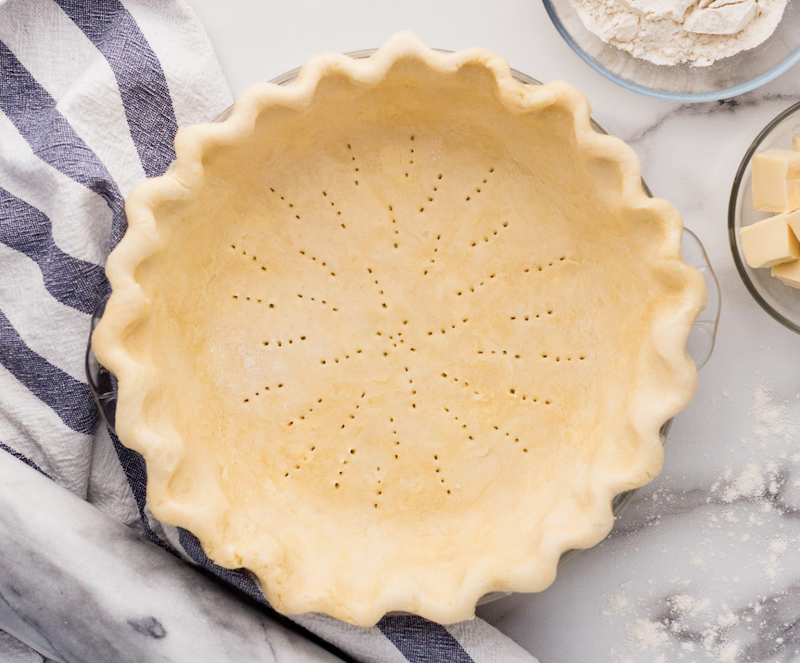 I Love Vegan
A solid flaky, buttery pie dough recipe really only needs four ingredients, but the end result is often a gamble if you're new at pie baking. If you're following a basic pie dough recipe that calls for butter, flour, ice cold water, and salt, simply swap the dairy butter for a vegan butter (we swear by Earth Balance sticks—not the tub). 
Some vegan recipes will use coconut oil, but do not substitute coconut oil for dairy butter unless the recipe explicitly calls for it. The secret to a perfect pie dough is following the recipe. You can often get creative with certain fillings, but the dough is based in science.
Try this recipe: Flaky Vegan Pie Crust by I Love Vegan
How to make a vegan graham cracker or cookie crust
Far less fuss than traditional dough, this sweet foundation involves crushing vegan cookies into oblivion. For the graham cracker base, purchase a brand that does not contain honey (both Nabisco and Keebler Originals are vegan-friendly). 
Blitz the grahams with a bit of coconut oil or dairy-free butter and a tablespoon or two of sugar until you can easily press the dough together and it holds. The same method applies to cookie crusts, though you may omit the sugar in this case.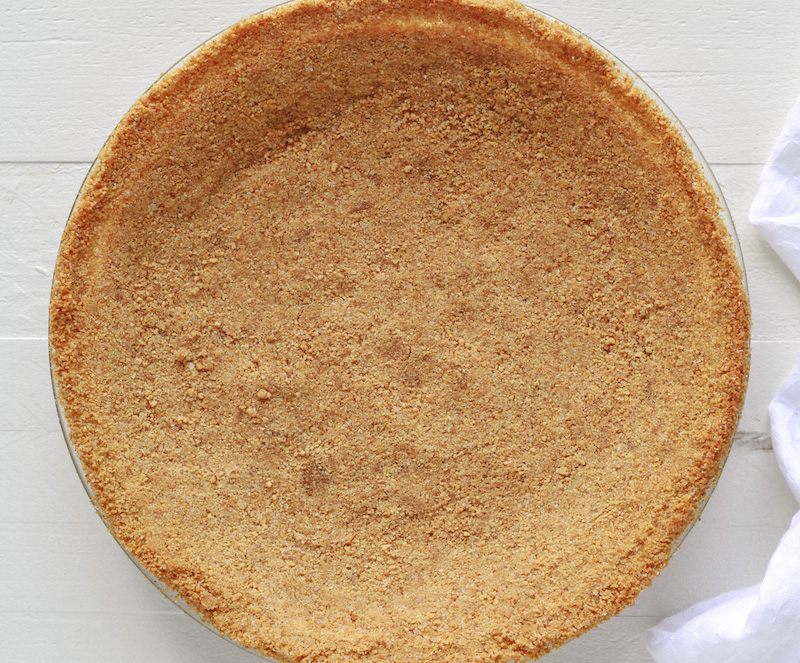 Dessert Done Light
Wafer cookies work, but the cream-filled variety acts as a bonus adhesive—which means you can use less vegan butter and avoid an oily crust. In this case, you're allowed to get a bit creative and turn any vegan-friendly sandwich cookie into a one-of-a-kind pie crust (such as pumpkin pie atop Trader Joe's Pumpkin Joe-Joe's). 
Try this recipe: Vegan Graham Cracker Crust by Dessert Done Light
Fruit pies are mostly vegan—just swap the butter
When it comes to fruit pies, vegans are in the clear. Thankfully, most non-vegan bakers aren't sneaking any animal products into their berry or apple pies.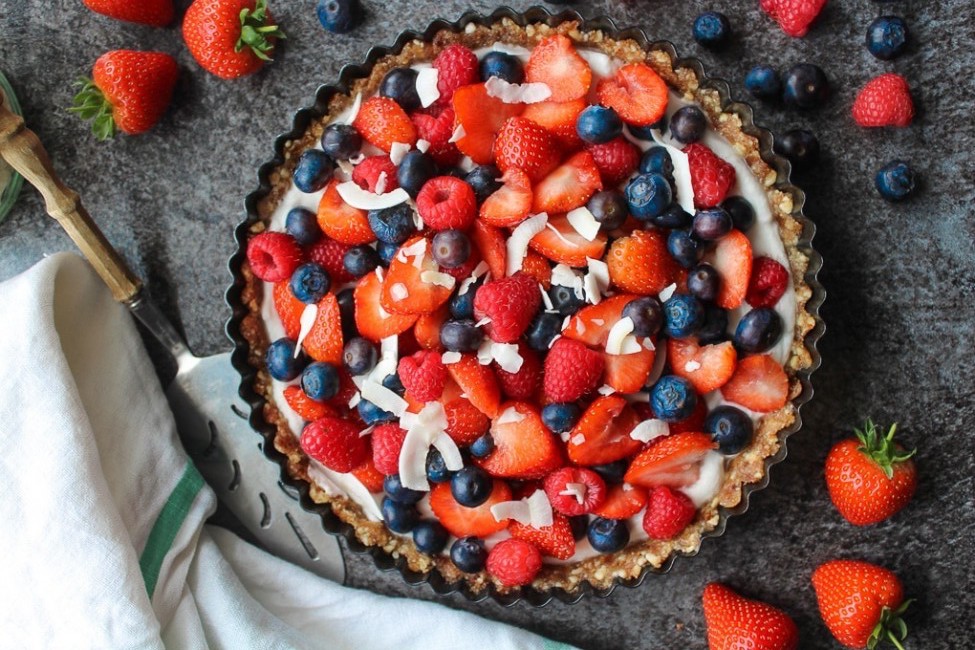 A Saucy Kitchen
You can follow your nana's recipe to the tee for this pie component. The one exception is the rare dotting of the filling with pats of butter (most often seen with apple pie). Swap the dairy butter for whatever vegan butter you have on hand, and you're golden. 
Try this recipe: Mixed Berry & Whipped Coconut Cream Pie by A Saucy Kitchen
Swap eggs and butter for tofu to make a vegan pecan pie
Non-vegan pecan pie recipes typically call for eggs and butter. The vegan swap? Tofu.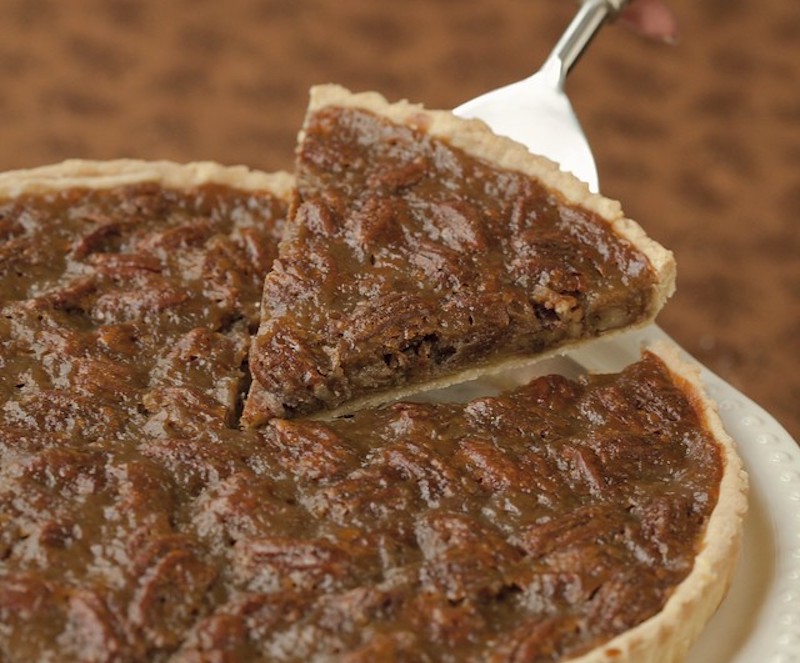 Post Punk Kitchen
When thoroughly blended with corn syrup, brown sugar, and vanilla (and perhaps some bourbon), tofu acts as a crucial binding agent that gives pecan pie its signature sweet custardy filling beneath the layer of toasted pecans. Bakers beware: use the silken tofu that comes in the shelf-stable cardboard package. The kind from the refrigerated section will not work.
Try this recipe: Maple Pecan Pie by Post Punk Kitchen
How to make a vegan cream pie filling

Think pumpkin, key lime, lemon meringue, chocolate, and chess pie. Along with cornstarch, these pies rely on eggs for thickening and binding. To veganize, you have a few options. Along with the ever-reliable tofu, cashews can help create a creamy consistency that doesn't run when sliced.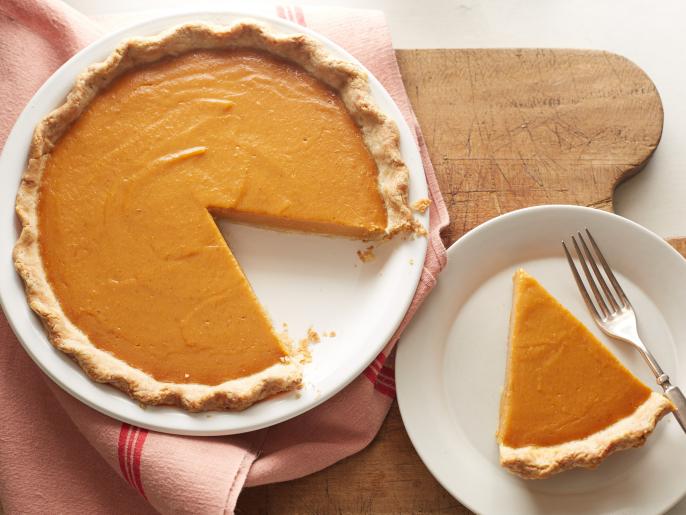 Food Network
Like the crust, creamy filling pies rely a bit more on science than creativity, so while you can attempt to transform a non-vegan creamy pie into a plant-based treat, there is no one-to-one swap that will guarantee results every time, so prepare for a bit of trial and error. When it comes to our favorite creamy pie recipes, we look to vegan-as-is recipes for a reliable and tasty end result.
Try this recipe: Vegan Pumpkin Pie by Food Network
Making a pie crumble topping without (dairy) butter
Why struggle with a complicated lattice top crust when you can simply sprinkle on a heaping mound of sugary, buttery crumble topping?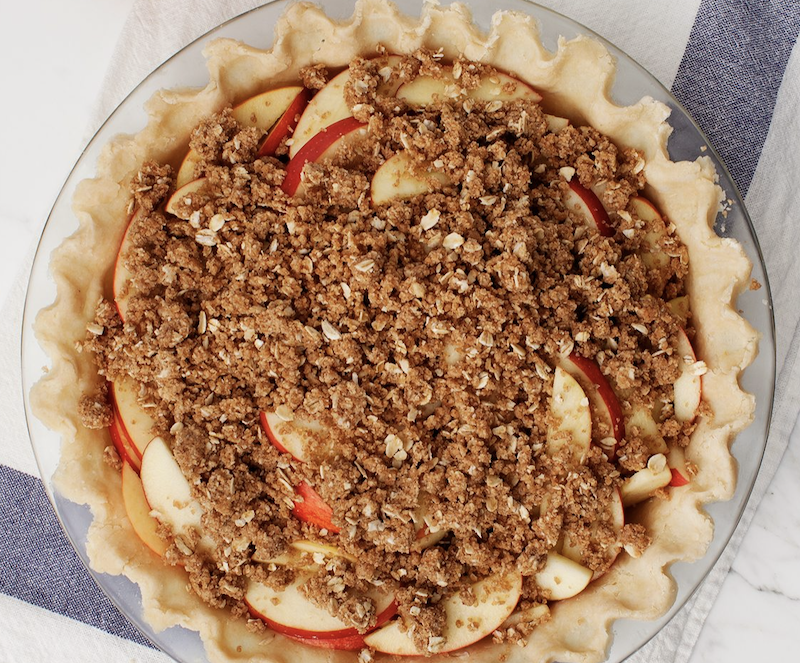 Love and Lemons
Easily veganize this delectable element by swapping in vegan butter for dairy butter. The remaining ingredients—sugar, brown sugar, flour, and salt—are good to go.
Try this recipe: Apple Crumble Pie by Love and Lemons

What whipped topping is vegan? Plus, how to make your own
Full disclosure: thanks to all of the vegan whipped cream products available, store-bought is nearly as good as the homemade version. We are fans of So Delicious' Cocowhip and Nature's Charm canned coconut whipping cream.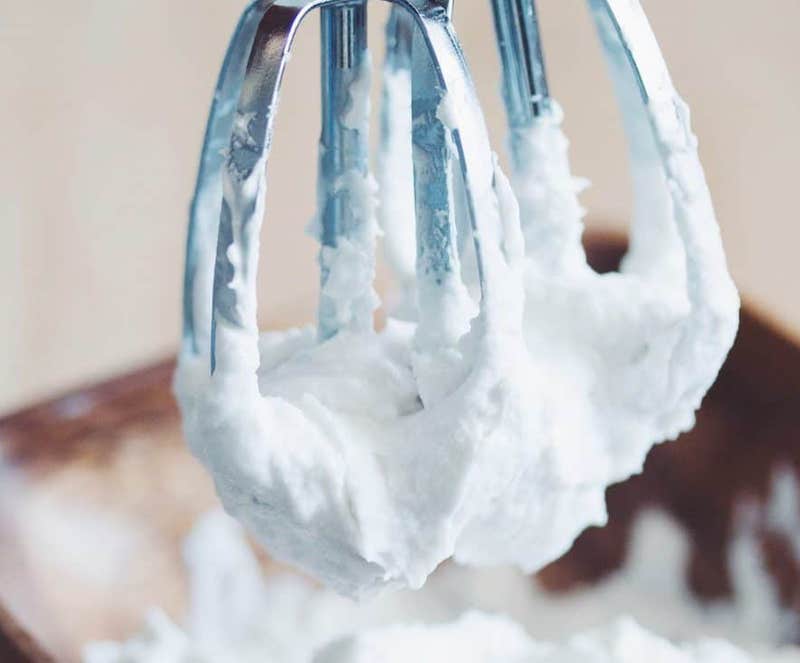 Hot for Food
However, if you're set on making your own, you'll need a can of full-fat coconut cream, powdered sugar, vanilla, and a beater or stand mixer (trust us, you do not want to beat this by hand as you'll need some horsepower to create fluffy peaks of cream). The trick is to chill the can of coconut cream until a solid layer forms at the top, then transfer that solid mass into a bowl without any of the liquid. Note: sometimes, you'll get a "dud" can of coconut that refuses to whip and instead creates a curdled mess. You cannot save it at this point, which is why it's crucial to have a backup can or a store-bought vegan whip on hand. 
Try this recipe: Coconut Whip by Hot for Food 
Vegan meringue with aquafaba 
The discovery of aquafaba—whipped chickpea brine—has made vegan meringue possible. For years, bakers vexed over the solution to this egg white and sugar concoction. Who knew the answer was in a can of chickpeas?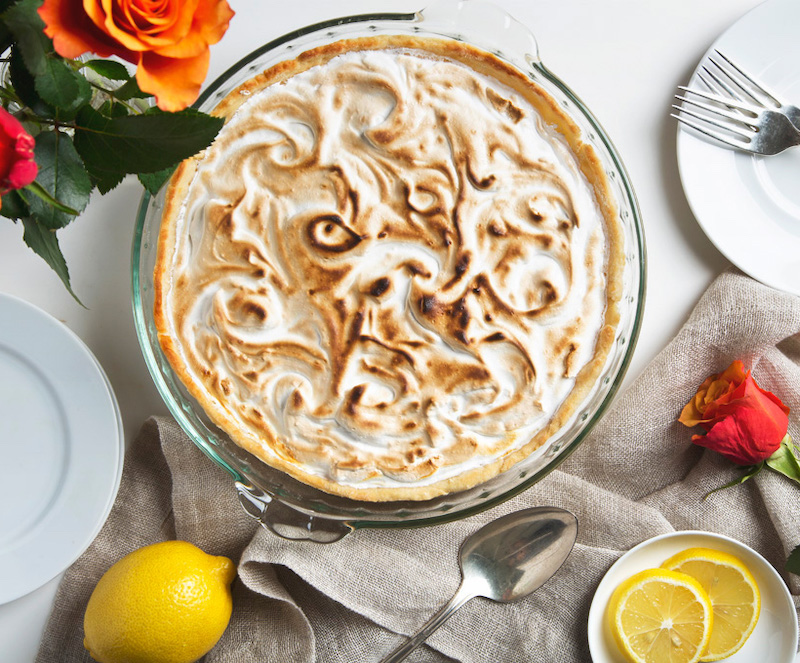 Pickles & Honey
Aquafaba tends to be slightly less finicky than coconut cream, so you can attempt this topping with confidence. Having a stand mixer helps tremendously, but if you're okay with getting a bit of an arm workout, hand-held electric beaters will work in a pinch. Pile up your sumptuous vegan pie with a mountain of meringue then take a torch to it to delight your guests. 
Try this recipe: Vegan Lemon Meringue Pie by Pickles & Honey
For more vegan pie tips, read: