Dessert is often portrayed as something that's a little bit "naughty," which implies it's something we shouldn't really be doing. But we're here to tell you that is simply not true. For one, there's nothing wrong with a treat here and there. But also, your much-loved after-dinner sweet can be delicious and nutritious at the same time. To prove that point, here, with the help of registered dietitian and nutritionist Avery Zenker, RD, MAN of EverFlex Fitness, we've compiled some of the best, healthiest vegan dessert ideas to satisfy your sweet tooth. 
Can dessert be healthy?
Not all desserts are nutritious, that's a given. Foods like ice cream, donuts, candy, and cakes can be ultra-processed, meaning they're probably best enjoyed in moderation. But we're not always looking for nutrition when we eat, sometimes we just want enjoyment or comfort, and that's okay. "If nutrition isn't your top priority for dessert, there are also lots of awesome vegan choices," Zenker says. So consider this your permission to stop feeling guilty about that tub of Ben & Jerry's. 
But it's important to know that you can also make enjoyable and delicious sweets with nutritious whole food ingredients, like nuts, fruits, and whole grains, for example. "The truth is, you can make a delicious vegan version of pretty much every dessert out there," Zenker says. Below, you can find some of her top choices of healthy plant-based desserts, and if you're feeling inspired, we've included vegan recipe ideas, too. 
The best vegan desserts, according to a nutritionist
Riley Yahr
1 Banana nice cream
"This has always been one of my favorites. You can make it with just one ingredient: bananas. All it takes it some ripe (spotty), frozen bananas and a blender or food processor," Zenker says. "Blend until thick and creamy, like soft serve … This dessert is packed with vitamins, minerals, fiber, and antioxidants."
Try it in a recipe: Chocolate Peanut Butter Swirl Banana Ice Cream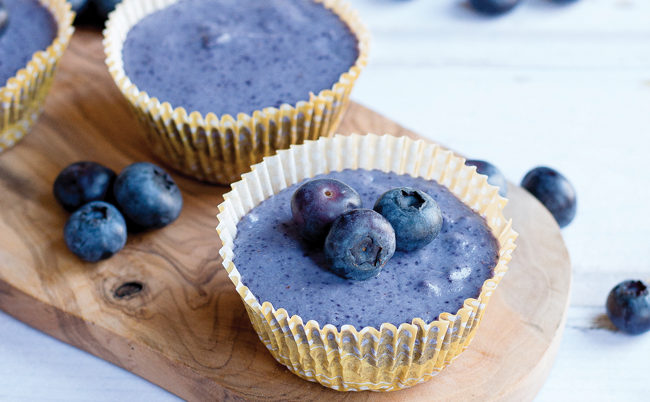 The Experiment
2 Cashew 'cheesecake'
"This one is a delicious classic vegan dessert. Cashews and coconut milk blend to make a creamy base for your cheesecake. I like making a wholesome crust with a mixture of blended nuts and dates," Zenker notes. "[It's] decadent and made with nutrient-dense whole food ingredients, but also can be high in fat, so consume in moderation in relation to your personal needs and preferences."
Try it in a recipe: Mini Blueberry Cheesecakes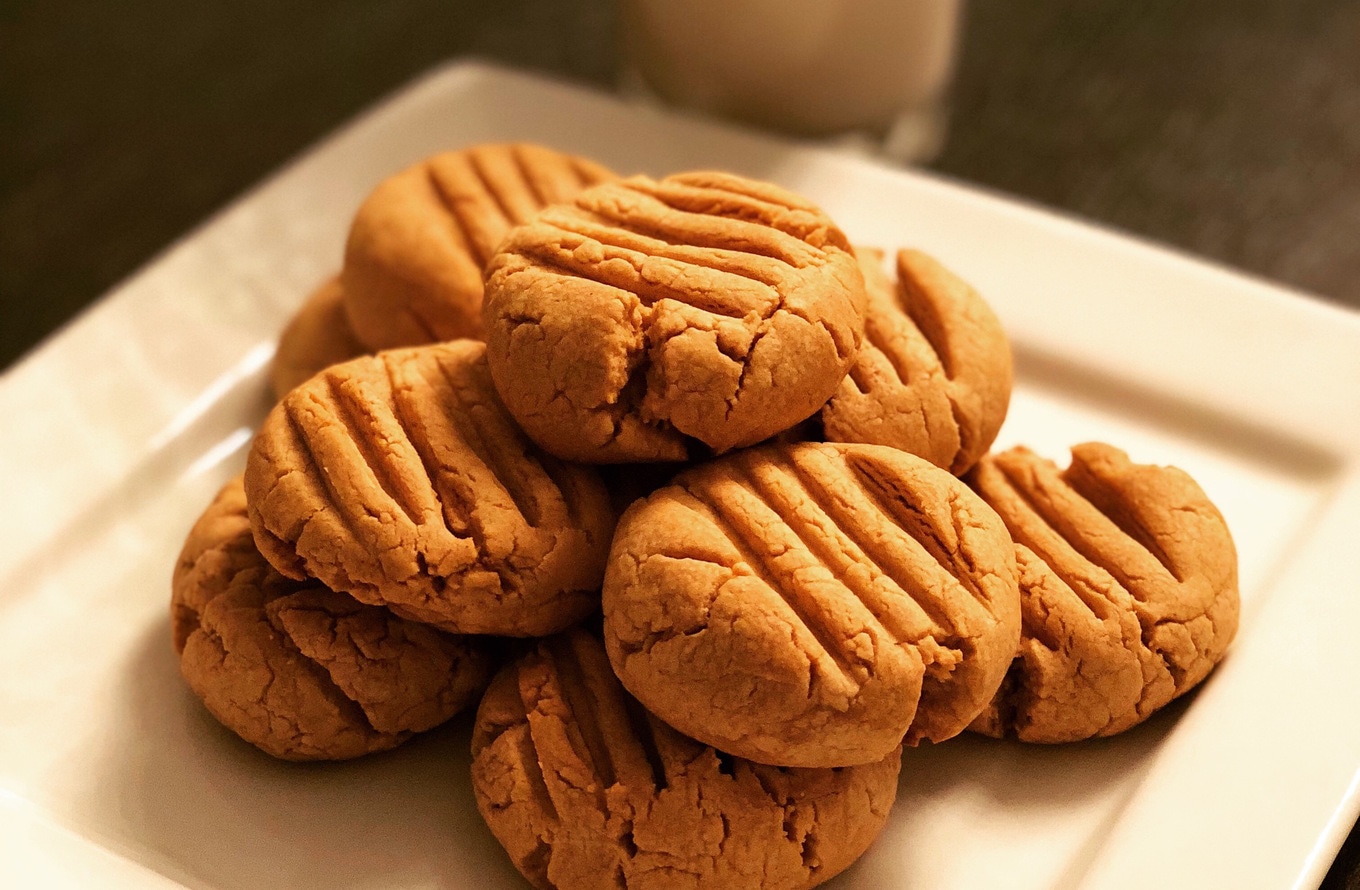 Charity Morgan
3 Peanut butter cookies
"Peanut butter cookies are super easy to make vegan," Zenker says. "The only key ingredient you need is peanut butter! Then it's up to you how you make them. To make them a bit more nutritious, I like to use oat flour and leave out the oil. And of course, chocolate chips can go well in almost any dessert."
Try it in a recipe: Vegan Peanut Butter Cookies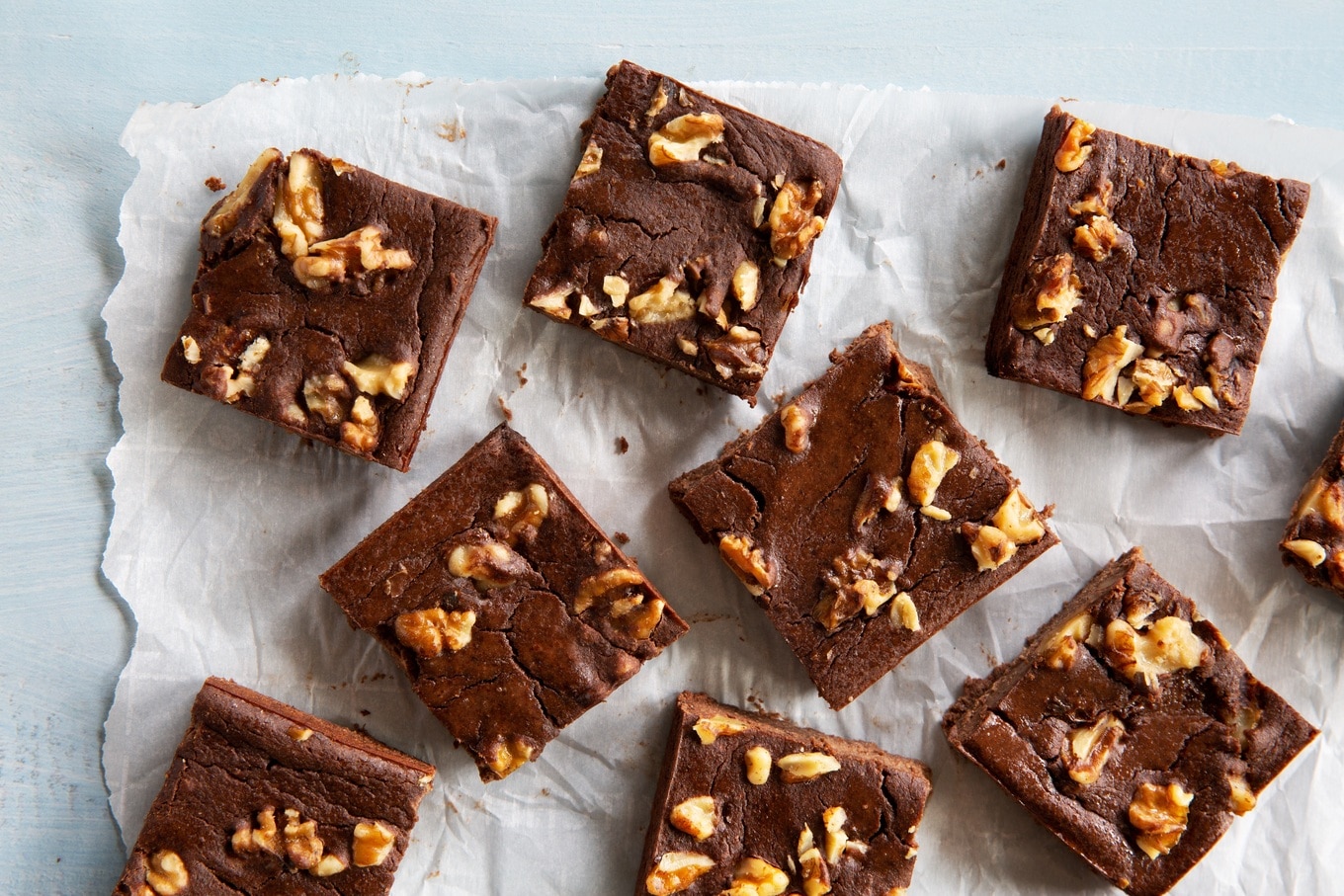 Maya A. Howard
4 Brownies
"Vegan Brownies don't have to be made with black beans or sweet potato, although there are some delicious recipes out there!" Zenker says. "Many common packaged brownie mixes are vegan, and just need an egg substitute, such as a mashed banana. There are many amazing and nutritious vegan brownie recipes out there."
Try it in a recipe: Gluten-Free Black Bean Fudge Brownies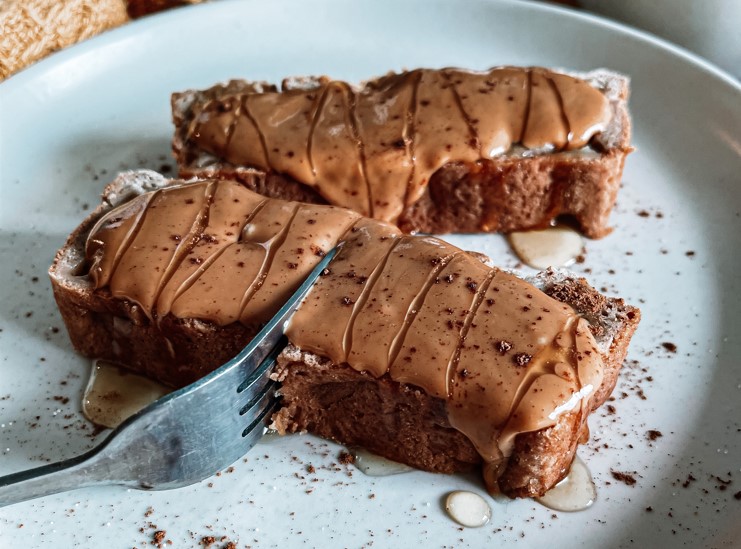 Kayla Cappiello
5 Banana bread
"Banana bread is a classic, and can be totally delicious made vegan," Zenker notes. "Make it more nutritious by using whole grain flour. Bananas provide natural sweetness, so you can reduce the amount of added sugar."
Try it in a recipe: Simple 5-Ingredient Vegan Banana Bread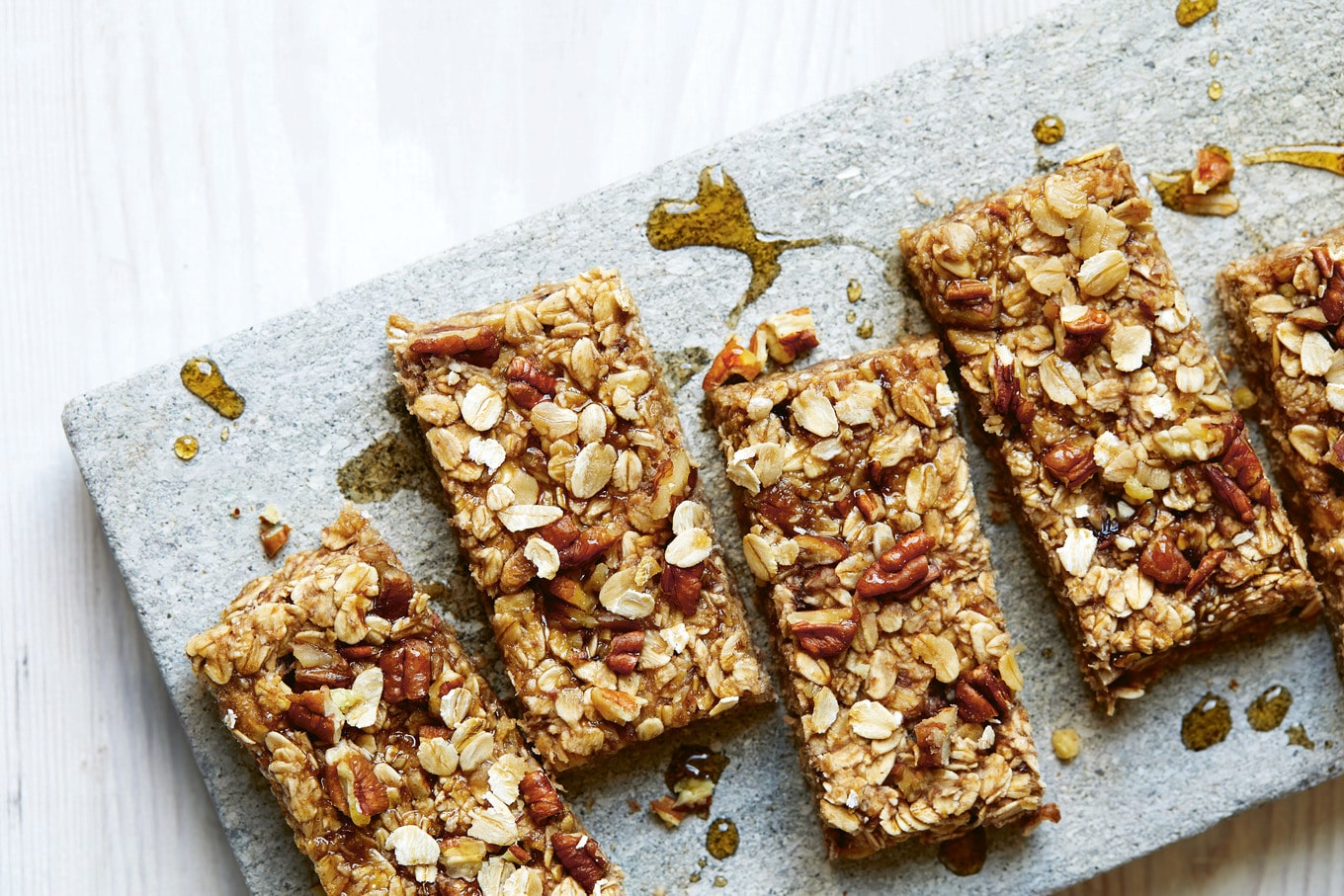 Luke Albert
6 Banana oat cookies
"Bananas are a great whole food sweetener in desserts, and oats are a fiber-rich whole grain," Zenker explains. "You can stop at those ingredients, or you can add nuts and seeds, raisins, chocolate chip, a dash of salt, or a splash of vanilla. These are awesome cookies to enjoy on the regular. Bonus: you can make these into granola bars!"
Try it in a recipe: Pecan, Cinnamon, and Banana Oat Bars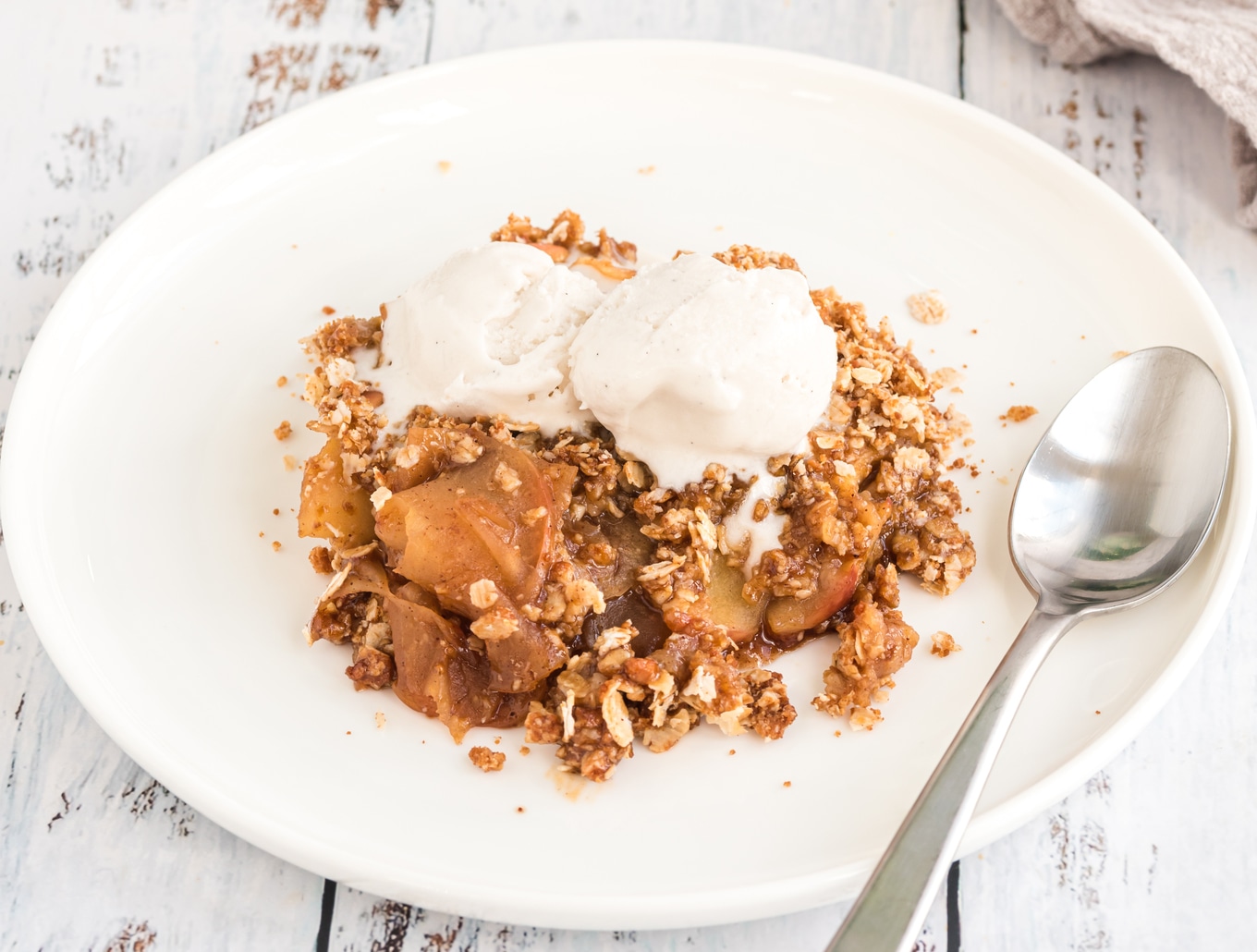 Dreena Burton
7 Fruit crumble
"Fruit is a great source of vitamins, minerals, fiber, and phytonutrients including antioxidants," Zenker says. "I like using oats to make a granola-like topping. It's also a great opportunity to add some nuts and seeds, like sliced almonds."
Try it in a recipe: Apple Crisp With Coconut Oat Crumble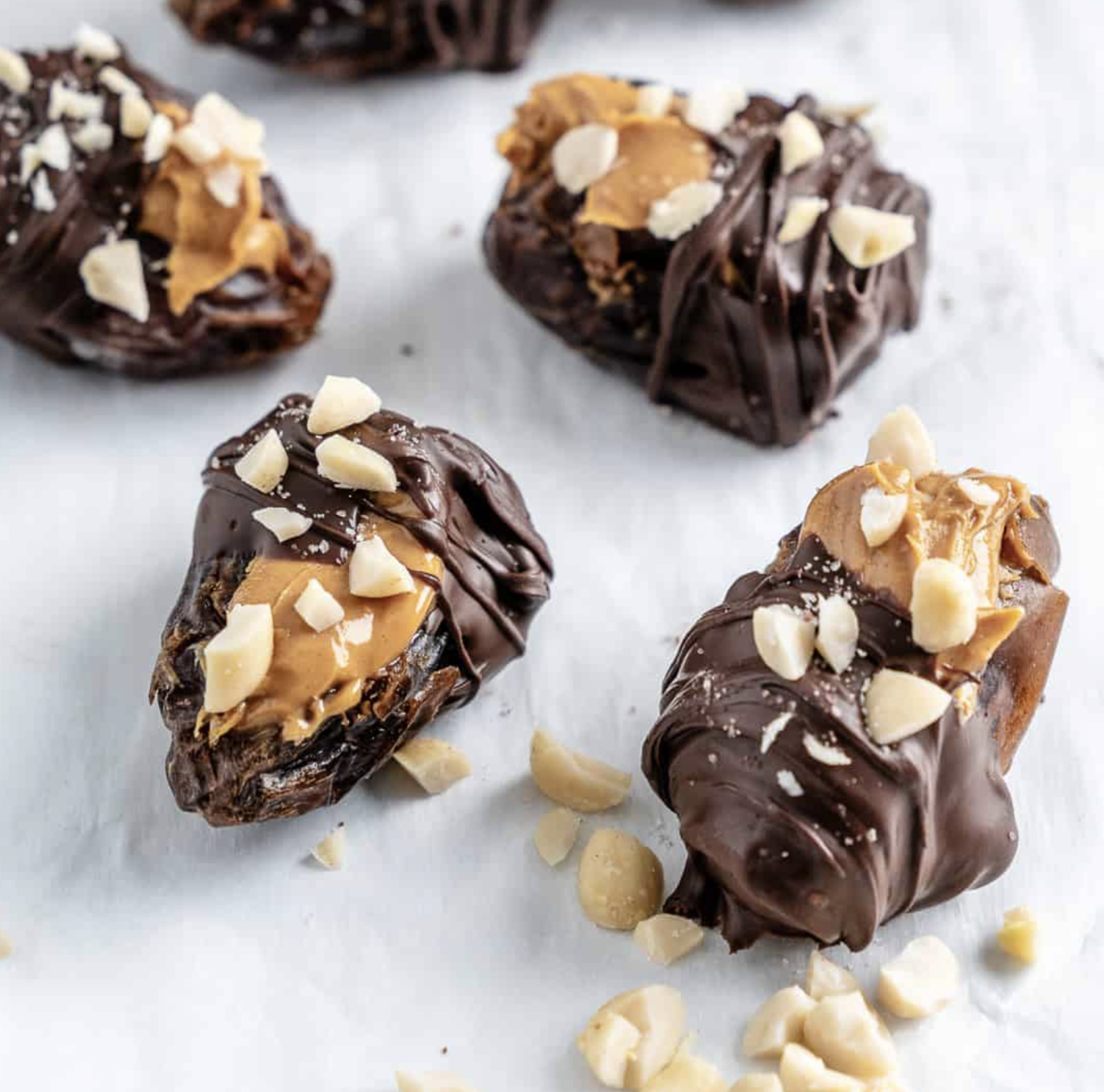 Plant-based on a Budget
8 Medjool dates stuffed with peanut butter
"This super sweet and nutty combination is just two simple whole food ingredients," Zenker says. "I'd recommend using natural peanut butter (made with just peanuts). I've seen these also dipped in chocolate with a sprinkle of salt on top to taste like a peanut butter salted caramel chocolate bar. These aren't a low-calorie treat, so enjoy them mindfully."
Try it in a recipe: Peanut Butter Stuffed Dates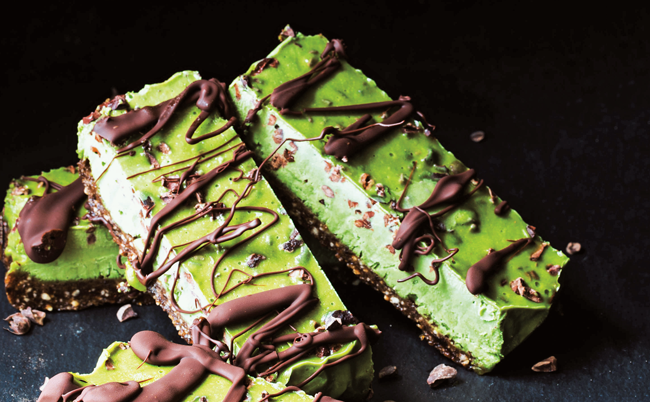 Page Street Publishing
9 Dark chocolate
"This one is pretty simple, and vegan dark chocolate is easy to find," Zenker says. "Dark chocolate is a source of iron and antioxidants such as flavonoids. You can enjoy dark chocolate regularly, just be mindful of portion size. Bonus: dip fruit in melted chocolate!"
Try it in a recipe: Two-Step Vegan Chocolate Matcha Energy Bars
For more on vegan desserts, read: