Veganize the fall classic doughnut with this baked recipe from the Orchids + Sweet Tea blog. You can use your favorite store-bought apple cider in this recipe to infuse the doughnuts with irresistible autumnal flavor.
Orchids + Sweet Tea
What you need:
For the doughnuts:
½ cup almond milk 
1 teaspoon apple cider vinegar
1½ cups flour
2 teaspoons baking powder
¼ teaspoon baking soda
½ cup sugar
1 teaspoon ground cinnamon
½ teaspoon ground nutmeg
⅛ teaspoon salt
¾ cup apple cider
1 teaspoon vanilla extract
3 tablespoons canola oil 
For the sugar coating:
1 cup sugar
½ teaspoon ground cinnamon
1 tablespoon apple pie spice
4 tablespoons vegan butter, melted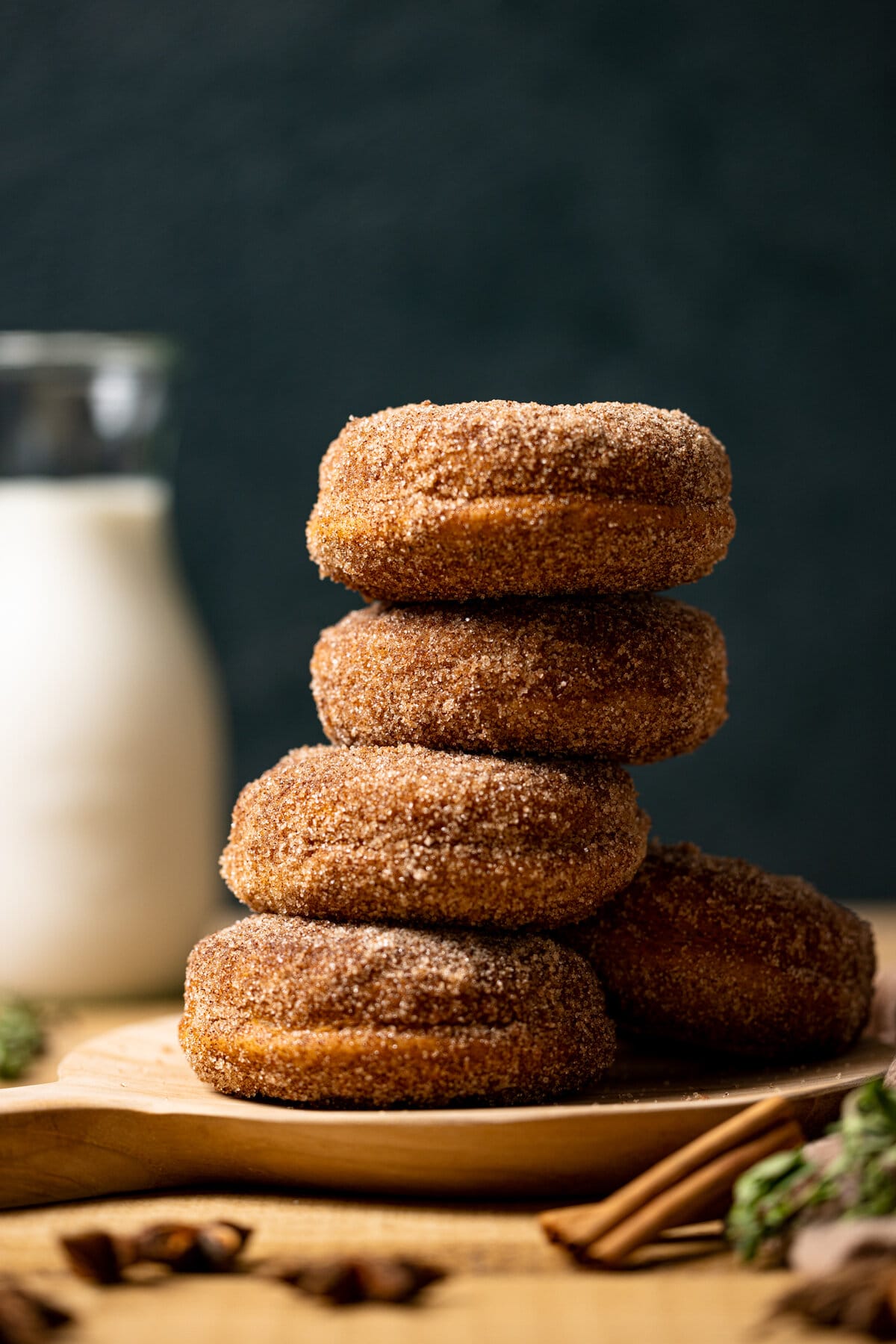 Orchids + Sweet Tea
What you do:
For the doughnuts, into a measuring cup, add milk and apple cider vinegar, and whisk. Set aside for 5 minutes until milk thickens. 
Preheat oven to 375 degrees and lightly grease doughnut baking pans. In a separate bowl, add flour, baking powder, baking soda, sugar, cinnamon, nutmeg, and salt. Stir in milk mixture, apple cider, vanilla, and oil, and mix until smooth.
Spoon batter into a piping bag and pipe batter into prepared pan wells, filling about ¾ of way.
Bake for 10 minutes, or until a knife inserted comes out clean. Remove from oven and let cool for 5 minutes before removing from pan and placing on a rack to cool completely.
For the sugar coating, in a bowl, whisk sugar, cinnamon, and apple pie spice. In a separate bowl, add melted butter.
Once fully cooled, dip (or lightly brush) each side of doughnut in melted butter and then dip each side into sugar mixture, making sure to coat all sides. Set doughnut on a cooling rack. Repeat until all doughnuts are coated.
For more recipes like this, check out: