The days of boring salads are officially behind us with exciting vegan restaurant news cropping up every week. New vegan bakeries are popping up from coast to coast, with a fresh outpost of Sticky Fingers in the East and San & Wolves in the West. 
With World Vegan Month just one day away, vegan fast-food chain Plant Power Fast Food has announced a menu special that celebrates the crunchy origins of plant-based eating. San Francisco Bay Area sensation Vegan Mob—a favorite of actor Danny Glover—might have closed its original Oakland shop but owner Toriano Gordon has so much more in store. Read on for more.  
1Hippie Burgers kick off World Vegan Month
World Vegan Month starts next month, and Plant Power Fast Food is celebrating with a throwback to honor the veggie origins of plant-based eating. The vegan fast-food chain's new Hippie Patty is made from simple ingredients such as black beans, poblano and chipotle peppers, roasted cashews, garlic, and onions. The patty was created to evoke the crunchy essence of early vegan and vegetarian cuisine. 
Plant Power Fast Food
The Hippie Patty can be used as a substitute in any of the chain's eight burger varieties and can be paired with its newly introduced Sweet Potato Fries for a nourishing meal option.
"In my school days, black bean patties were my lifeline and epitomized veganism for many of us as they represented a delicious and savory alternative to the high-fat and cholesterol beef burgers," Zach Vouga, founder of Plant Power Fast Food, said in a statement. 
"The Hippie Patty is our love letter to those early vegan days," Vouga said, "It's a reminder that sometimes, the simplest foods like vegetables, legumes, nuts, and herbs pack the most powerful punch."
Both the Hippie Patty and Sweet Potato Fries will be available across all locations starting November 1, 2023. 
2Sticky Fingers opens new DC outpost
If you're craving cookie sandwiches, cupcakes, pastries, and cakes, one of the best places to go in the country is Sticky Fingers Sweets & Eats. And this month, the famed vegan bakery opened its newest outpost in the NoMa neighborhood of Washington, DC.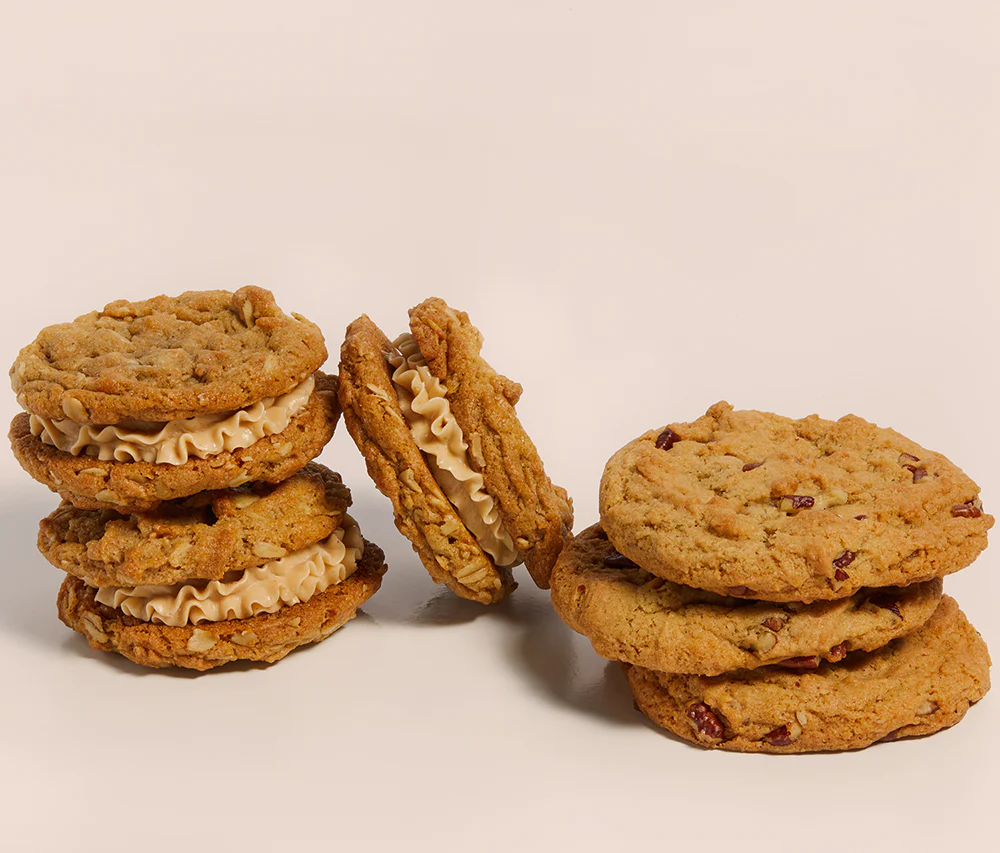 Sticky Fingers
The new location adds to the bakery's increasing availability across the DC area, including nine Foxtrot markets, MOMs, Yes! Organic Market, Peregrine, Odd Provisions, and Whole Food Markets. A new bakery and wholesale production facility in Takoma is also planned for this winter. 
Sticky Fingers was founded by award-winning vegan pastry chef Doron Petersan, who is a two-time Cupcake Wars champion.
"The more opportunities people have to choose vegan, the more they will, so we want to be everywhere that people shop, which is why we're making it so much easier to find Sticky Fingers treats all over," Petersan tells VegNews.
The Grand Opening saw 50 customers walk away with a free cookie and 10 percent of the proceeds made that day were donated to the Humane Rescue Alliance. Not in DC? In addition to providing local delivery, Sticky Fingers offers a variety of plant-based sweets that ship nationwide.
3Filipinx bakery in Long Beach
More vegan bakery news? Coming right up.
San & Wolves Bakeshop, a vegan Filipinx bakery is setting its sights on a physical location in Long Beach, CA. The shop was first born in 2017 as a pop-up in New York and has since expanded its offerings to Southern California. 
Specialties here include vegan pastries with Filipinx flare such as cinnamon buns, cakes, and pop-tarts in black sesame, ube, and pandan flavors; bitsu-bitsu (think doughnut holes); half and half cookies; and pan de coco (the sweet bread roll that started it all).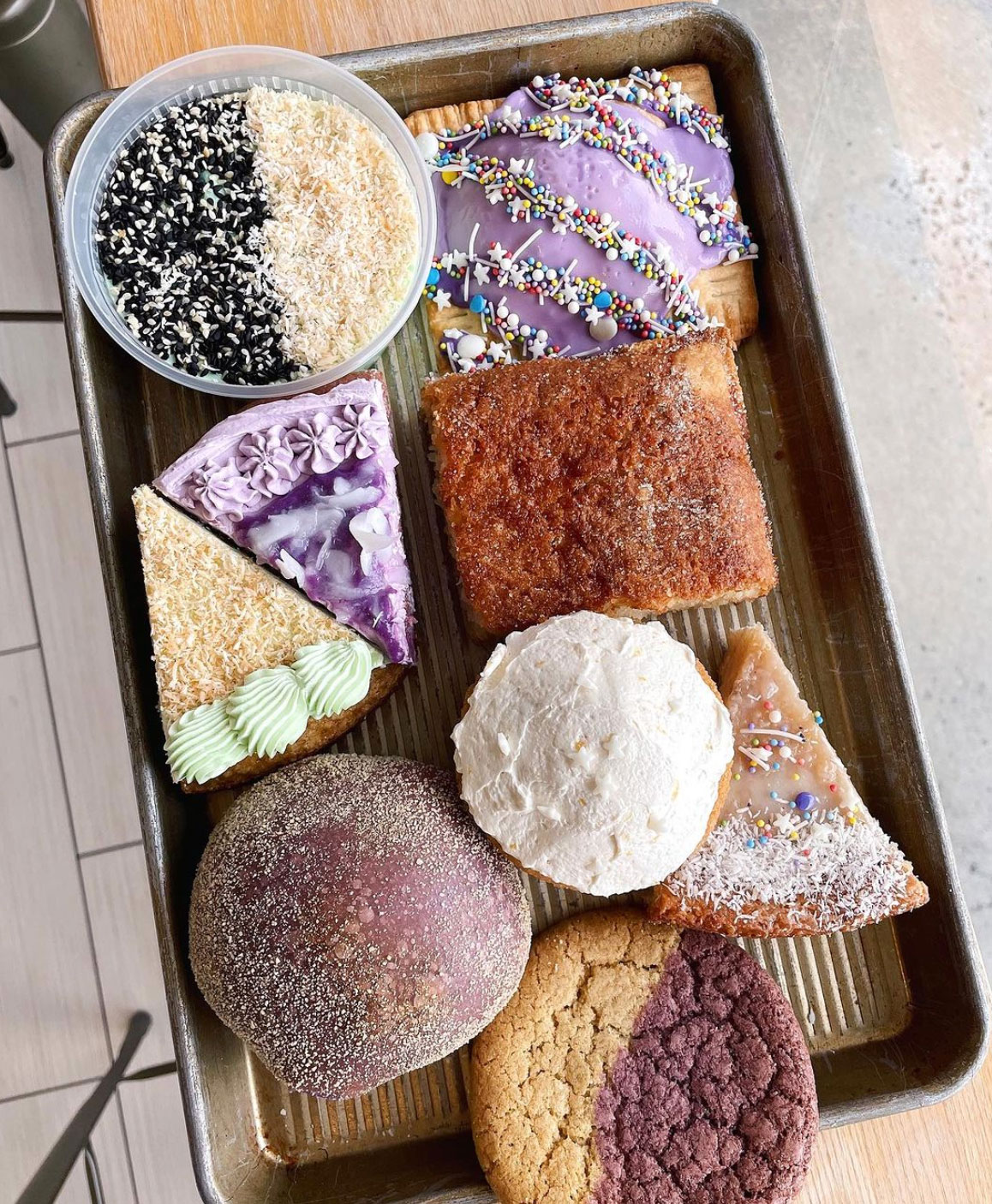 San & Wolves
San & Wolves just successfully completed a Kickstarter campaign to help fund its first physical shop, where it will offer a much wider selection of 10 pastry options, along with a selection of specials and desserts. Also, the brick-and-mortar shop will increase San & Wolves' baking capacity, reducing the chances of its pastries selling out—a common occurrence at its pop-ups.  
"We believe that vegan Filipino food should be an accessible and delicious choice for everyone, without compromising on flavor," Kym Estrada, pastry chef and founder of San & Wolves Bakeshop, said in a statement. 
"With the support of our community, we can create a welcoming space where everyone can enjoy our culture and be part of something truly special," she said. 
410 courses of vegan Thai food
Satdha, known for its unique plant-based Thai offerings, is celebrating a decade in the business by hosting an exclusive 10-course tasting event on November 9, 2023. 
Since its launch in 2013, Satdha has been a leader in the plant-based Thai food scene in Los Angeles, blending fresh ingredients and traditional methods with innovative flavors. This approach has won the establishment a dedicated following and numerous accolades over the years.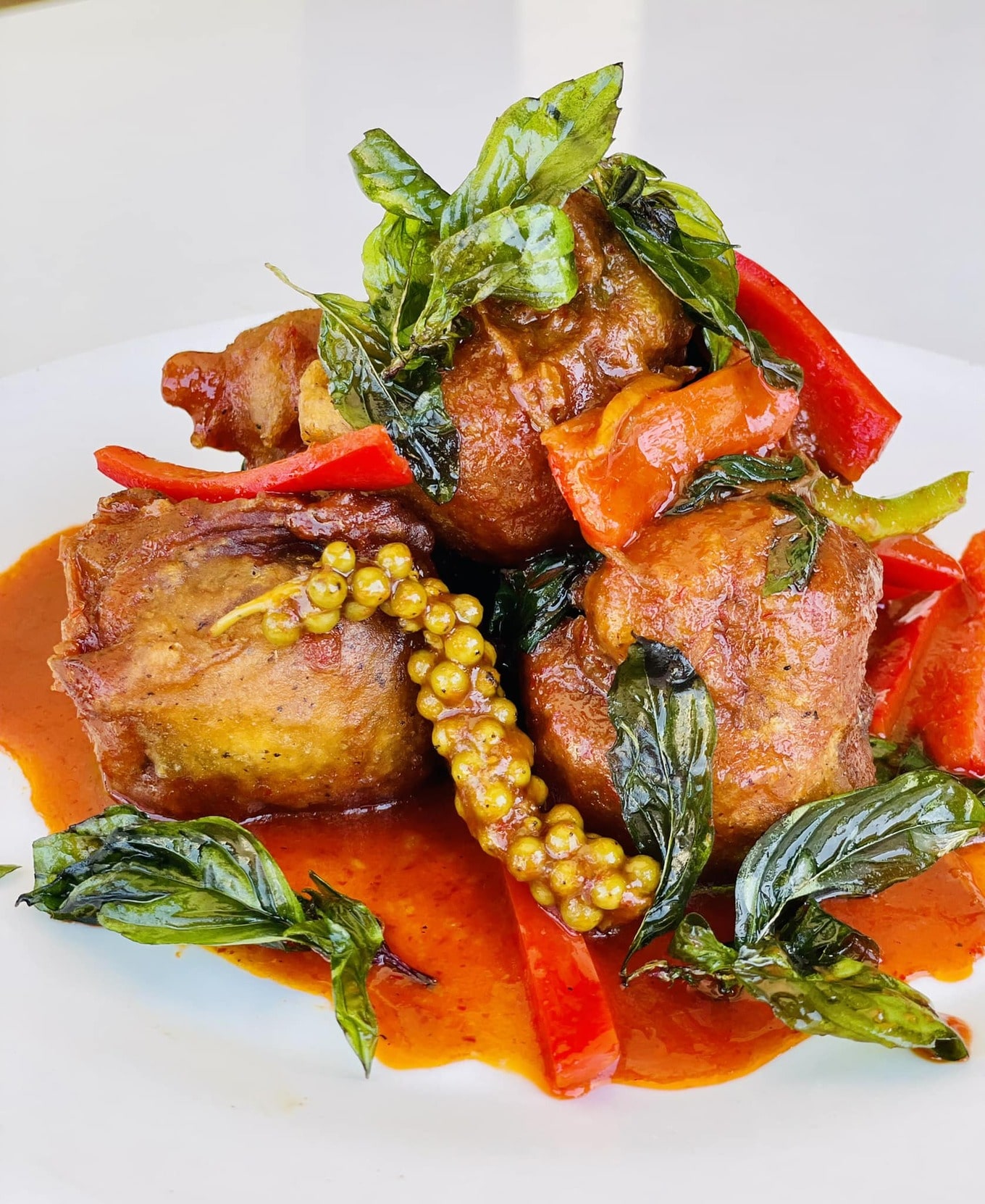 Satdha
The special menu for the evening is designed by Chef Gunn Pankum, who has been instrumental in shaping the restaurant's identity. Pankum's culinary talent and passion for vegan Thai cooking will be on full display as she introduces an array of new dishes. 
"For this special event, she has crafted an exclusive tasting menu that will introduce new tantalizing dishes, pushing the boundaries of what vegan Thai cuisine can be," Pankum said in a statement. 
Satdha has built its reputation on a combination of traditional authenticity and modern influences in plant-based Thai cuisine. The upcoming anniversary dinner will have two seating options at 5:30pm and 8:00pm, to provide flexibility for attendees, while maintaining an atmosphere conducive to a unique dining experience.
5Vegan Mob opens new Bay Area locations
Northern California native and celebrated actor Danny Glover is a big fan of Vegan Mob, a local plant-based eatery known for its meatless barbecue. Founded by Bay Area musical artist Toriano Gordon, the first brick-and-mortar Vegan Mob location opened in 2019 in Oakland and quickly became a sensation for its creative takes on soul food such as smackaroni (vegan mac and cheese), plant-based brisket, Southern-style greens, and more.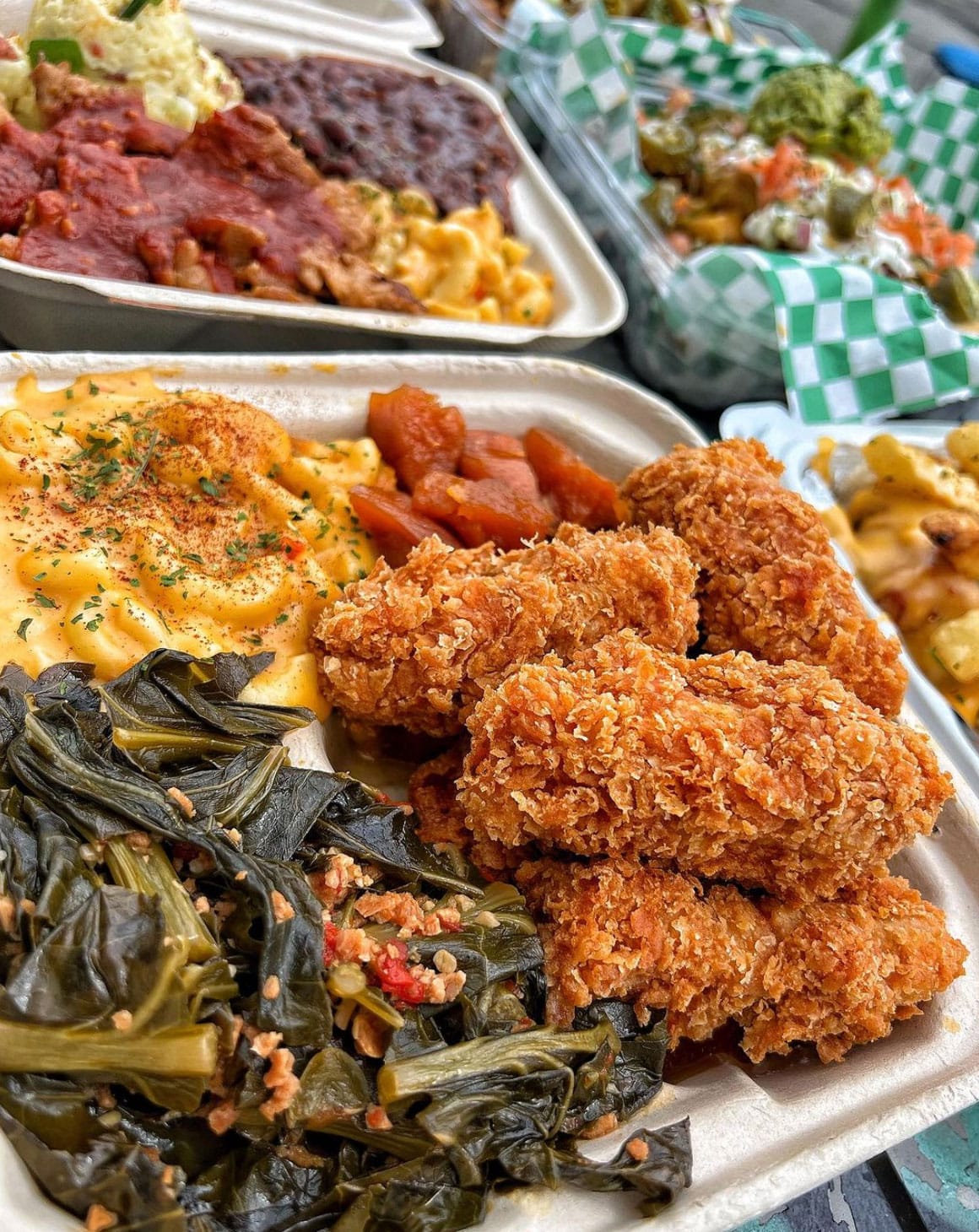 Vegan Mob
Unfortunately, Gordon closed the Oakland location in September as his lease there was temporary. But when one door closes, two more open as the vegan entrepreneur just expanded Vegan Mob to a Santa Rosa location and an outpost in the Bayview neighborhood of San Francisco—which represents a homecoming for Gordon, who was raised in the Fillmore district. 
"There's been a lot of ups and downs this past year. I've had so much nostalgia for the Oakland spot already, but this is about doing what's best for my business and for my family," Gordon told local outlet SFGate. "I had to make a tough decision in order to grow." 
Gordon is just getting started with another Vegan Mob food truck planned for Oakland, a cookbook with 80 plant-based recipes, and a retail line of vegan frozen meals at Whole Foods Markets and Safeway stores in early 2024.
For the latest vegan news, read: