Traditionally, the most important components of a charcuterie board are the cheeses and meats, while other sweet and savory components such as fruit, vegetables, and crackers are used to build out the board. But in recent years, the meats and cheeses are being replaced with animal-free alternatives that are equally as impressive. 
With the rise of vegan products, sourcing ingredients to make an epic charcuterie board is easier than ever. But if you don't have the time or creativity to pull together all the ingredients, a growing number of companies are offering to make an Instagram-worthy board for your next party. 
Vegan charcuterie companies
1 C'est La Vie
Richmond, VA-based C'est La Vie, for one, offers "Lunchables"-sized prepared vegan charcuterie packs for those looking for an easy snack option. "My journey into creating a business that offers vegan charcuterie lunchables, we call 'luncheries,' was inspired by a combination of personal passion and a commitment to filling a gap in the market," Yosef Mirakov Cohen, Founder and CEO of C'est La Vie, tells VegNews. 
C'est La Vie
C'est La Vie's snack-sized charcuterie offerings feature plant-based deli, cheese, mini bruschetta, and a sweet nut-free trail mix. One of their most popular varieties is the Smoked Charcuterie Luncherie. "We believe what sets the 'Smoked' flavor apart is the nostalgic quality it carries," Mirakov Cohen says. "The hickory smoked deli and smoked gouda cheese combination evokes memories of classic smoky flavors that many people grew up enjoying. It's like a taste of the past brought into the present."
Ultimately, the company's mission is to provide a unique snacking solution. "Our mission is to provide a guilt-free snacking solution through intentional ingredients, carefully curated flavors, and eco-friendly packaging," Mirakov Cohen says. "We aim to be pioneers in the conscious-eating snack industry, delivering not just a snack but an experience that resonates with individuals seeking a more mindful and delicious way to #snackforlife."
2 Harry & David
Other companies offer vegan charcuterie options for parties of more than one. Last year, gift box business Harry & David launched its first Vegan Charcuterie Collection featuring plant-based cured meats from California company Renegade Foods.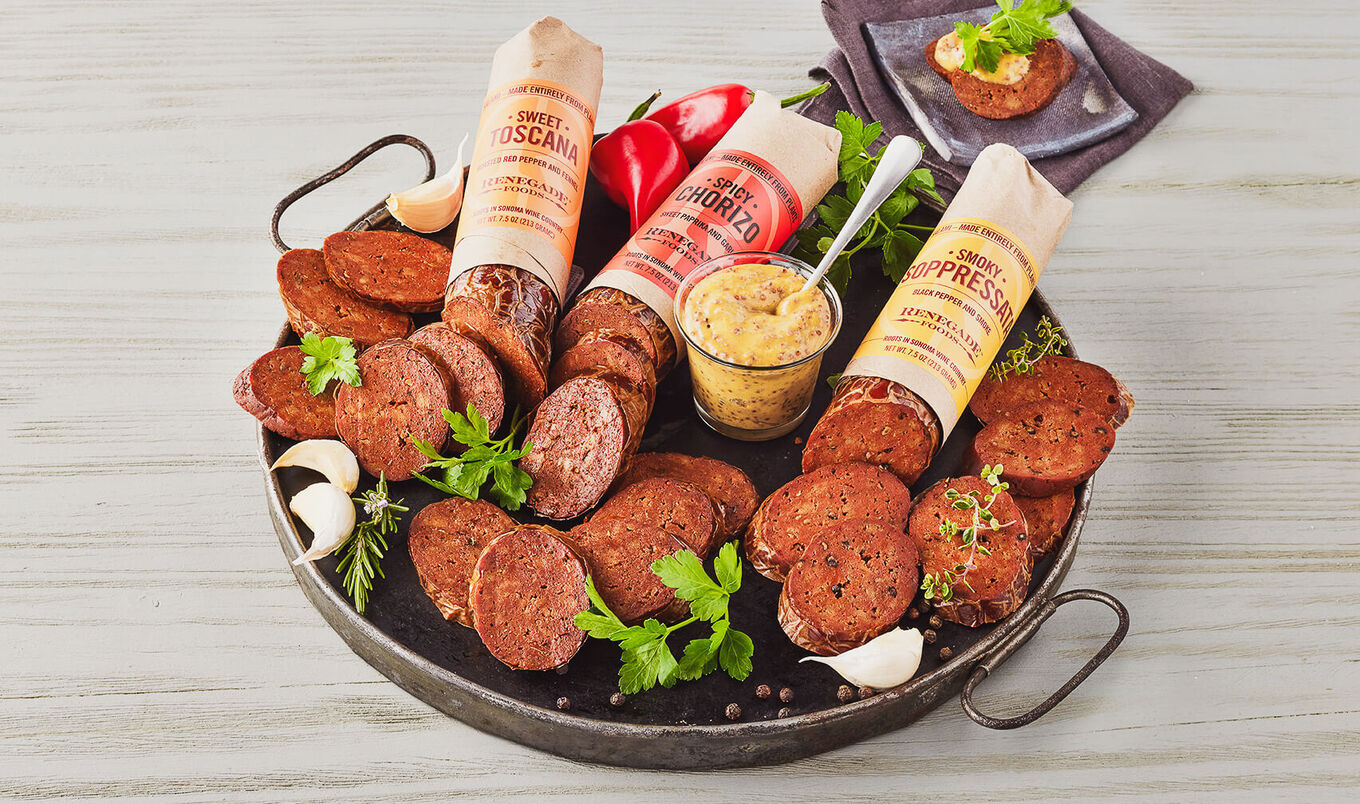 Harry & David
Among the offerings, Harry & David's Deluxe Vegan Charcuterie and Cheese Assortment includes Herbs Au Natural vegan cheese, Renegade salami meats (smoky Soppressata, sweet Toscana, and spicy chorizo), quince fruit paste, pitted grilled green olives, and mini toasts.
"The demand for alternative meat offerings has surged, and we want to ensure our customers have the opportunity to purchase gourmet vegan meat products from Harry & David, whether for gifting, easy entertaining, or self-consumption," Sierra Castellano, Senior Director of Merchandising at Harry & David, previously told VegNews.
3 Renegade Foods
For its part, Renegade Foods recently tripled production capabilities for its shelf-stable vegan charcuterie meats following a rise in demand. In addition to its cured meats, the company also offers its own charcuterie kits featuring its three salami meats, sourdough flatbread, dried apples, roasted cashews, lemon garlic green olives, peach preserves, and sweet and hot mustard.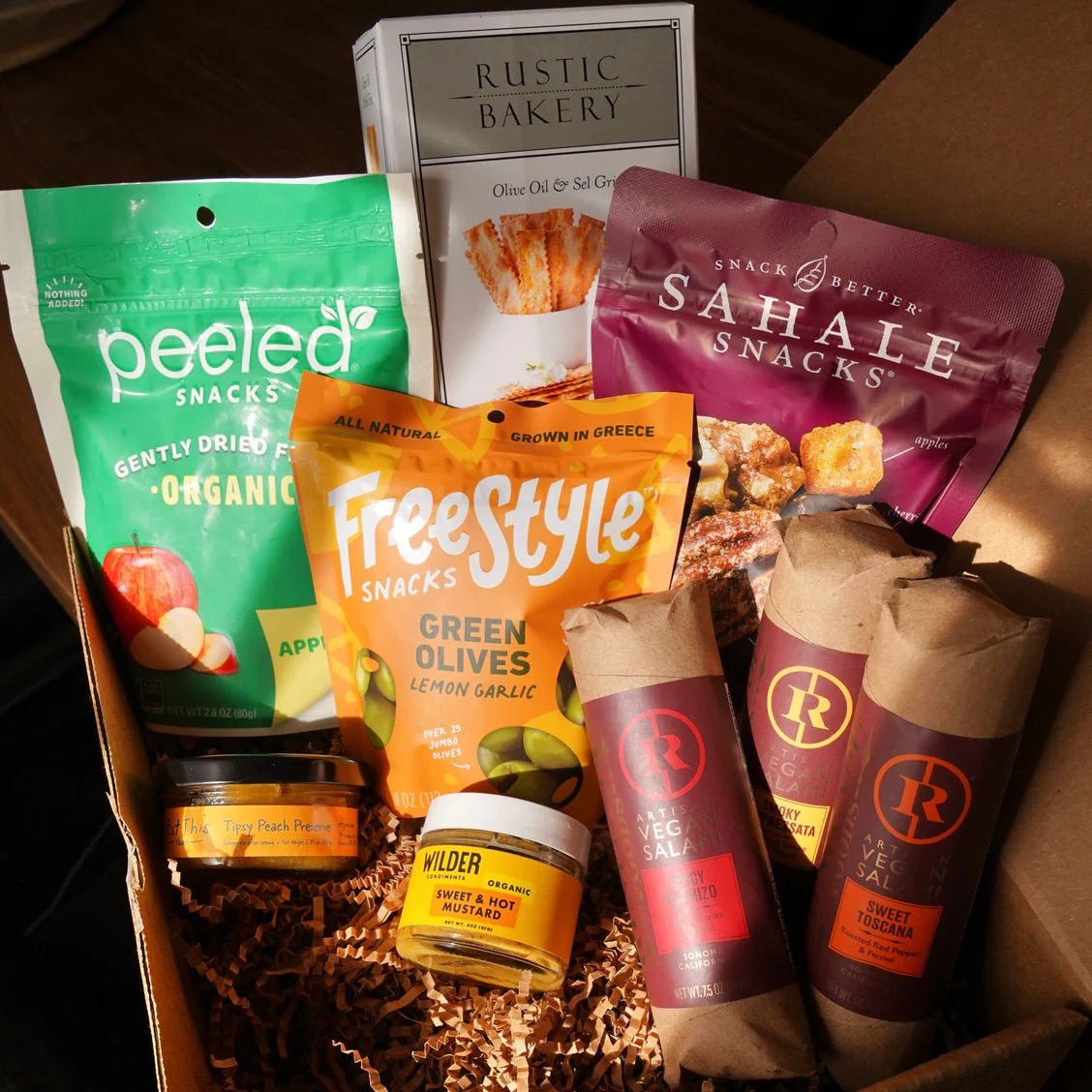 Renegade Foods
"We have found that many consumers are hesitant to adopt a plant-based lifestyle because it can be limiting when it comes to enjoying social gatherings, so we thought what better way to share our love of food than by providing a delicious vegan charcuterie kit that can easily be shared with others," Kalie Marder, Co-founder and COO of Renegade Foods, tells VegNews. But why are vegan charcuterie boards gaining popularity?
"It's easy to throw together a charcuterie board and add any snackable items you have lying around in the fridge or pantry. You can also get very creative and artistic with a vegan charcuterie board, which makes it beautiful to photograph and very 'Instagram worthy,'" Marder says.
Notably, showing that vegan party platters can be just as impressive as traditional ones can change minds. "People once thought that a vegan diet was boring and lacking in flavor, and vegan charcuterie boards are a big part of why that sentiment is changing," Marder adds.
4 Ladybug
In addition to established companies offering vegan charcuterie options, there are also family-based startups that have brought more vegan meat-and-cheese boards to the world. Philadelphia, PA-based vegan charcuterie business Ladybug offers charcuterie boards featuring cashew- and vegan yogurt-based cheeses such as Creamy Danish Blue, Cambria, Creamy Cashew Boursin, and Cheddar. Customers can choose to pair cheese selections with housemade vegan meats such as salami and pepperoni, along with freshly made crackers.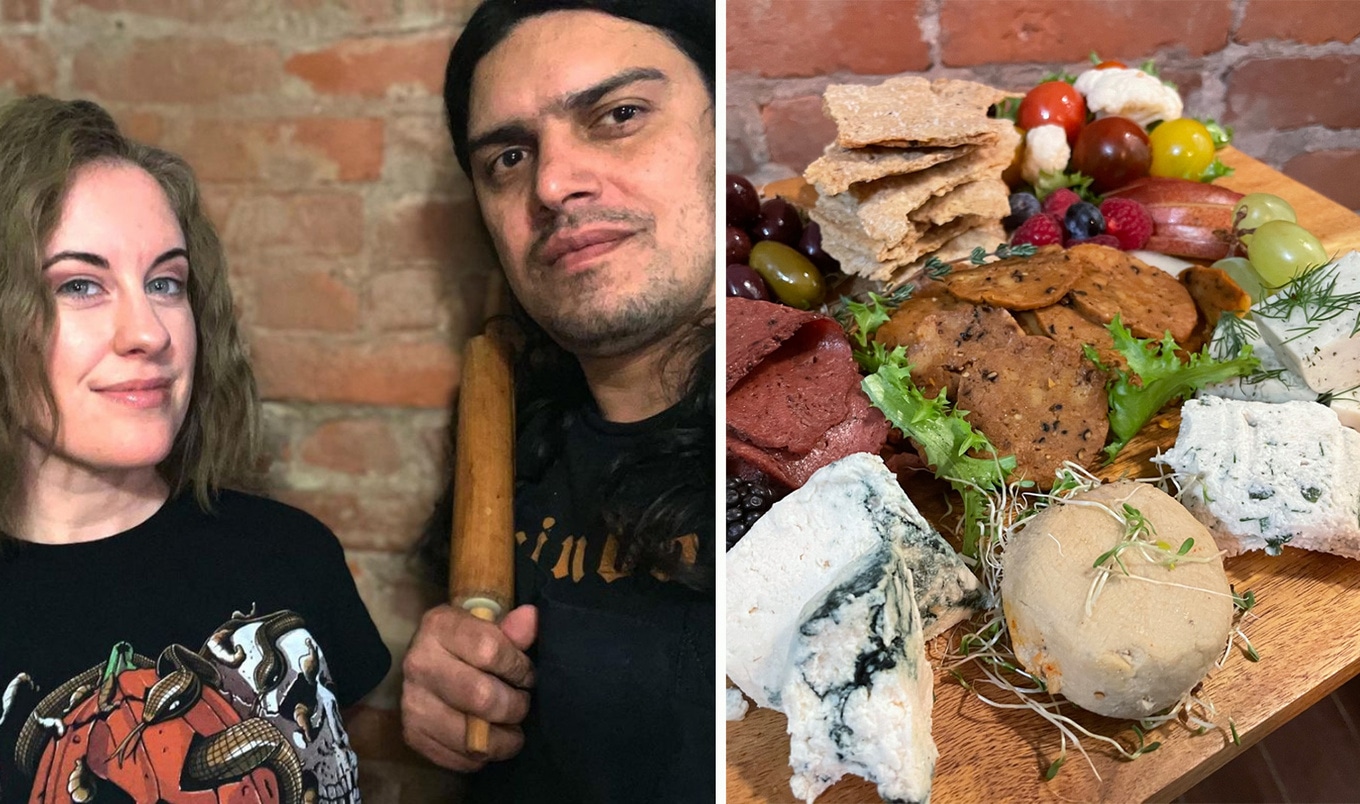 Ladybug
The company, founded by Shannon Neddy and Adam Campos, was created during the COVID-19 lockdowns, when regulations limited restaurant and bar operations, and Neddy and Campos, both service industry veterans, found themselves unemployed. 
"We didn't set out to do charcuterie initially per se," the couple previously told VegNews. "As the vegan cookbooks we were buying started piling up, we started to put things together, and all of a sudden one day we had enough for a charcuterie board." 
For the latest vegan news, read: