When it comes to flavor, tofu doesn't have the best reputation. And it's unsurprising; without other ingredients, tofu is pretty bland and lacking in flavor. But that's why this healthy, centuries-old protein is rarely eaten plain. When it comes to tofu, a good, flavorful marinade is your best friend. In fact, the right combination of seasoning and sauce takes a dull ingredient and transforms it into a food you will want to eat over and over again. Trust us, it's a game changer.
Why should you marinate tofu?
On its own, tofu has a very neutral, bland flavor—but this isn't actually a bad thing. Its lack of strong flavor means that tofu is the perfect blank canvas. Its soft, spongy texture means that it soaks up the flavor of whatever spices or sauces you're marinating it in beautifully.
It's worth noting here that it's always worth pressing the water out of your tofu as much as possible before you marinate it, or opt for an extra firm version. This is because the higher the water content, the softer your tofu will be post-marinade. For more on how to press your tofu, follow our guide here.
According to the tofu website Tofupedia, you should also avoid using oil in your marinade. "Depending on the amount of moisture in the tofu, the oil can form a layer around the tofu, preventing it from absorbing flavors," it notes. "For example, when grilling tofu, brush with oil only after it has been marinated."
Finally, if you're cooking tofu in a soup, stew, or broth, you don't need to marinate it beforehand, because it will absorb the flavor from the liquid as it cooks. 
How long should you marinate tofu?
The amount of time you'll need to leave your tofu to marinate depends on the type you're using and how much. If you're marinating a large block, you might want to consider leaving it in the marinade for several hours. But if you're just cooking with a small amount, a minimum of 15 minutes should do the trick. That said, "for the tastiest results, marinade the tofu overnight," Tofupedia advises.
The best-marinated tofu recipes
The best part about adding more tofu to your diet is how versatile it is. The nutrient-dense food can take on all sorts of flavors, meaning it will always fit right into whatever cuisine you're craving. See below for some of our favorite ways to consume marinated tofu.
Chrissy Mergogey
1 Tofu Veggie Kebabs
Combine tamari, pineapple juice, maple syrup, garlic, ginger, and sesame oil to marinate the tofu for these delicious barbecue-friendly veggie kebabs. For best results, cover and refrigerate for around 45 minutes, and make sure to rotate the tofu halfway through.
Get the recipe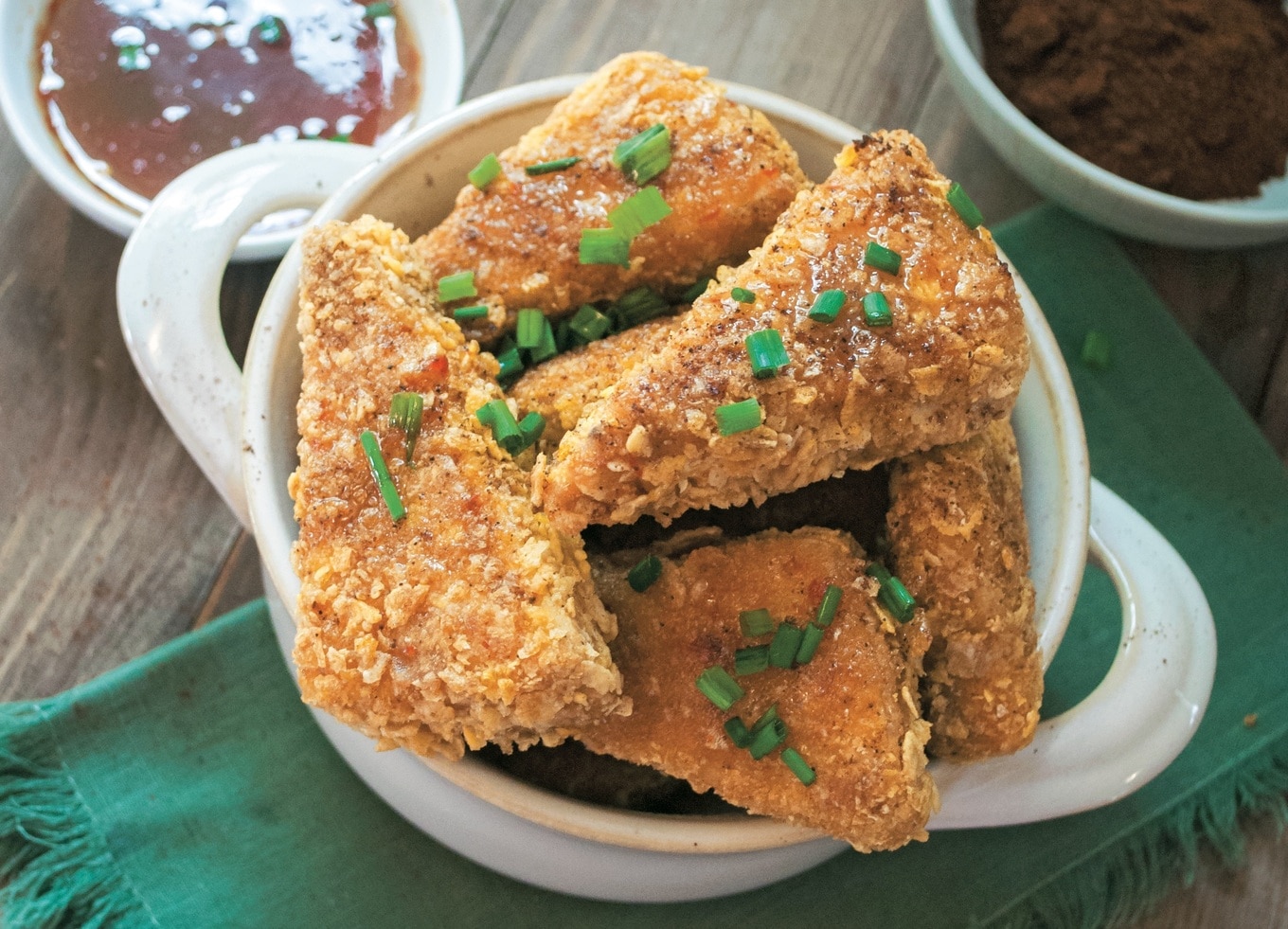 Lauren Hartmann and Julie Grace
2 Spicy Oven-Fried Tofu
This crispy baked tofu is a delicious standalone snack, but it also works well on the side with vegan mac and cheese, for example. The marinade is simple, just combine hot sauce, plant-based milk, agave syrup, and salt with the tofu triangles and leave in a bowl for an hour or more.
Get the recipe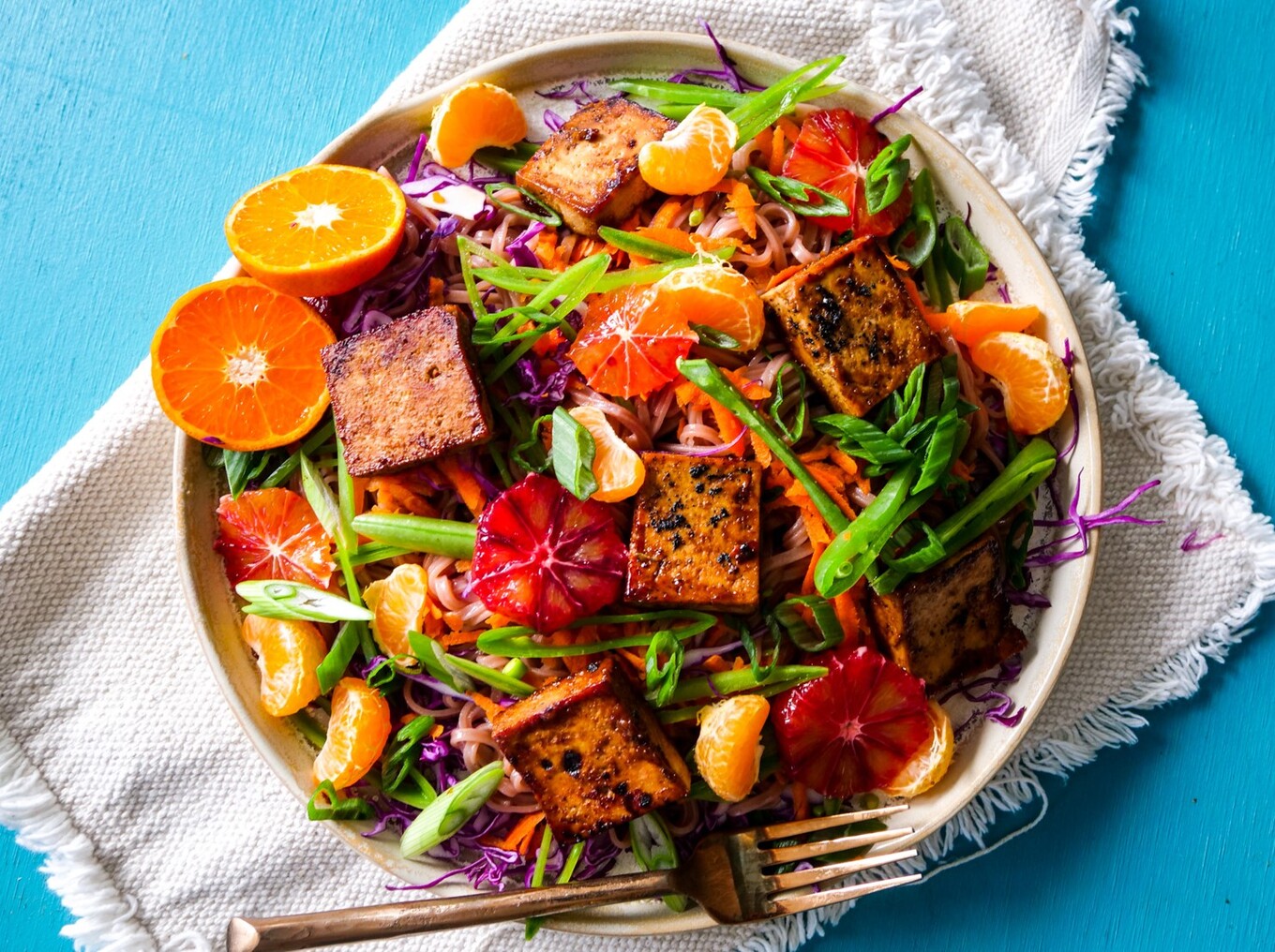 Bailey Ruskus
3 Rainbow Mandarin Warm Noodle Salad
Coconut aminos (a dark brown, fermented coconut sauce), miso, and chili garlic paste make up the marinade for the tofu in this delicious warm salad with gluten-free Thai-style rice noodles. Mix together with the tofu and then leave in the refrigerator for 15 to 20 minutes.
Get the recipe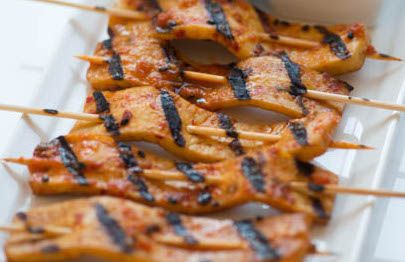 Wade Hammond
4 Spicy Korean BBQ Tofu Satay
This Indonesian-Korean fusion recipe is bursting with flavor thanks to the spicy, rich marinade of soy sauce, rice vinegar, agave, ginger, garlic, and red peppers. For best results, marinate with the tofu overnight in the refrigerator.
Get the recipe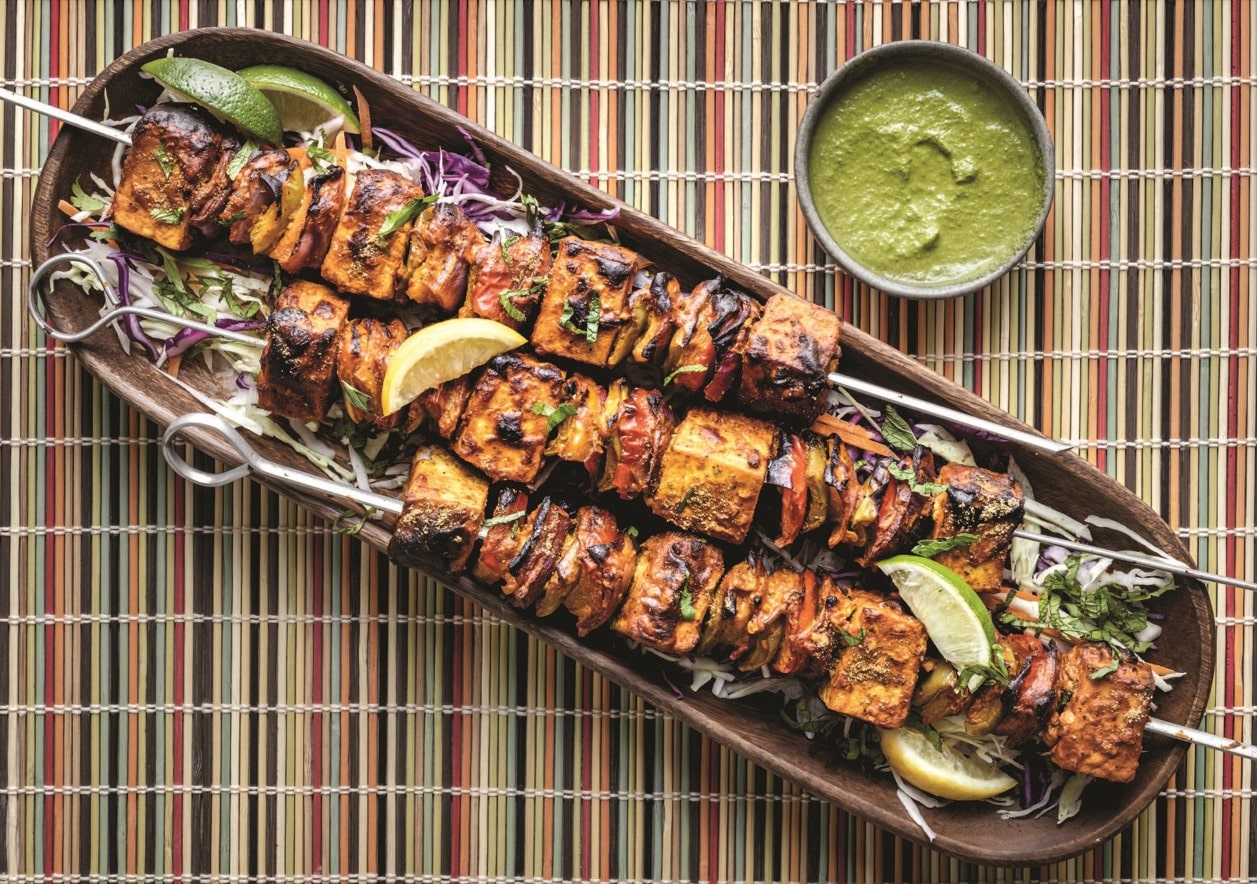 5 Indian-Style Tofu Tikka Skewers
For those who love north Indian tikka, this delicious tofu recipe is for you. For ultimate flavor, marinate the tofu cubes overnight in vegan yogurt, tomato paste, garlic, ginger, lime juice, garam masala, paprika, salt, turmeric, red chili, and black salt.
Get the recipe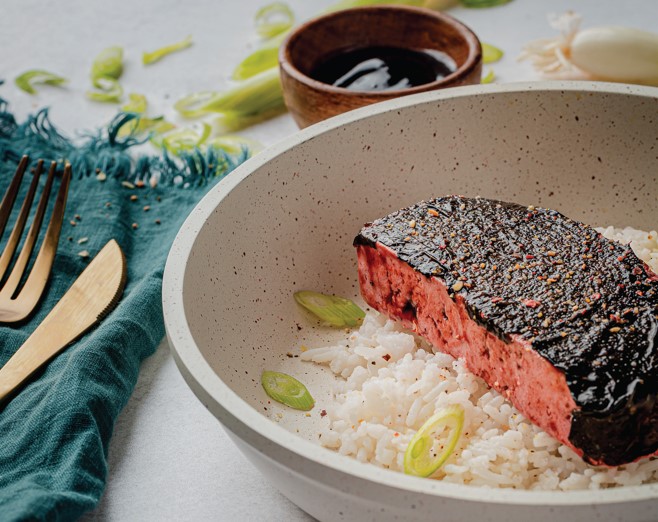 6 Vegan Smoked Teriyaki Salmon Fillet
It's easy to recreate the flavor and texture of teriyaki salmon with tofu and the right marinade. Blend together torn-up nori sheets, vegetable broth, vinegar, beet juice, miso, garlic, salt, and turmeric, and then leave in the refrigerator with the tofu for 30 minutes minimum.
Get the recipe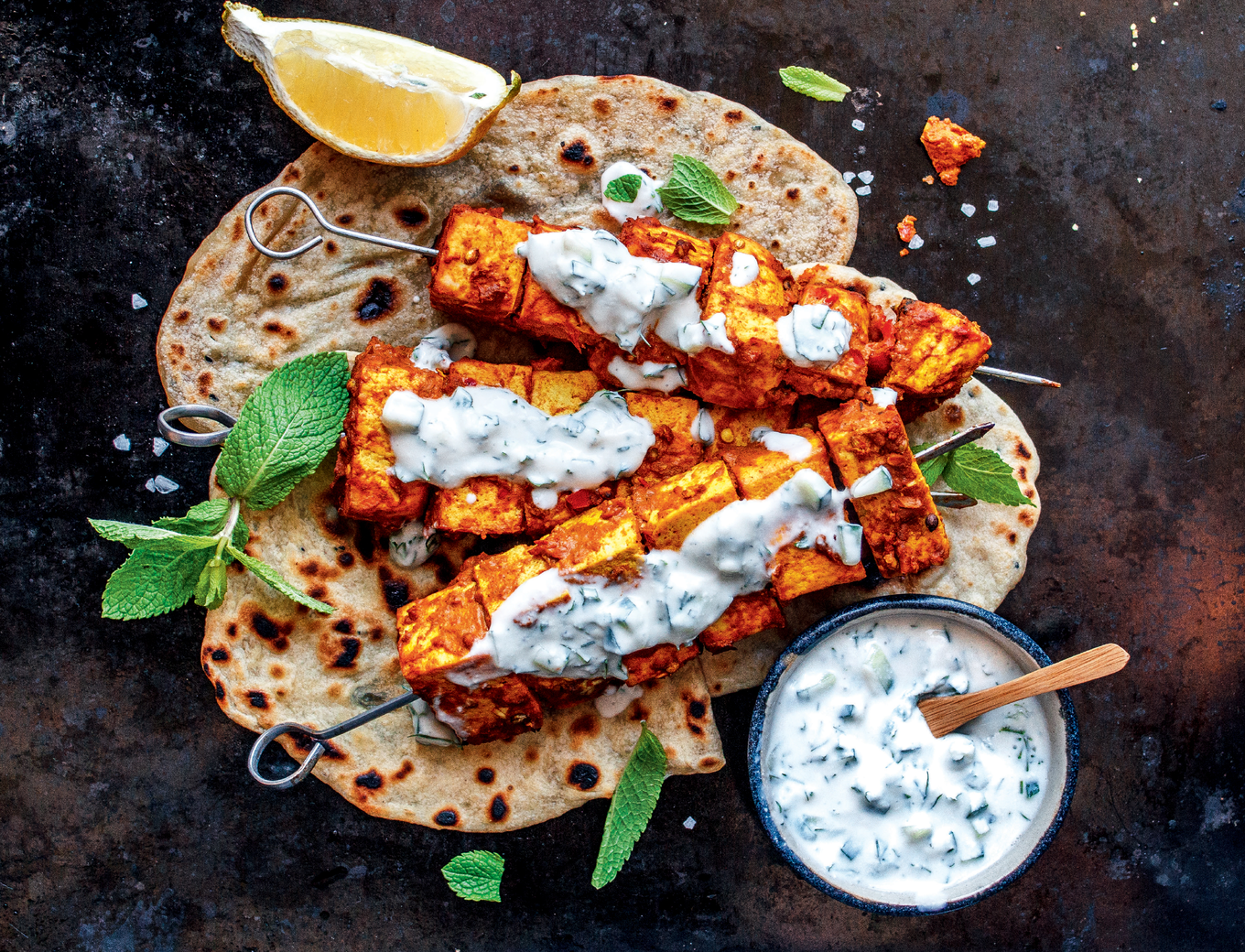 Nadine Horn and Jörg Mayer
7 Tandoori Tofu Skewers
The first secret to succulent, delicious, tandoori vegan skewers is tofu, and the second is, you guessed it, the right marinade. Mix together vegan yogurt, pepper, garlic, coriander, turmeric, cinnamon, salt, star anise, tomato paste, and oil, and then leave with the tofu in the refrigerator for around four hours.
Get the recipe